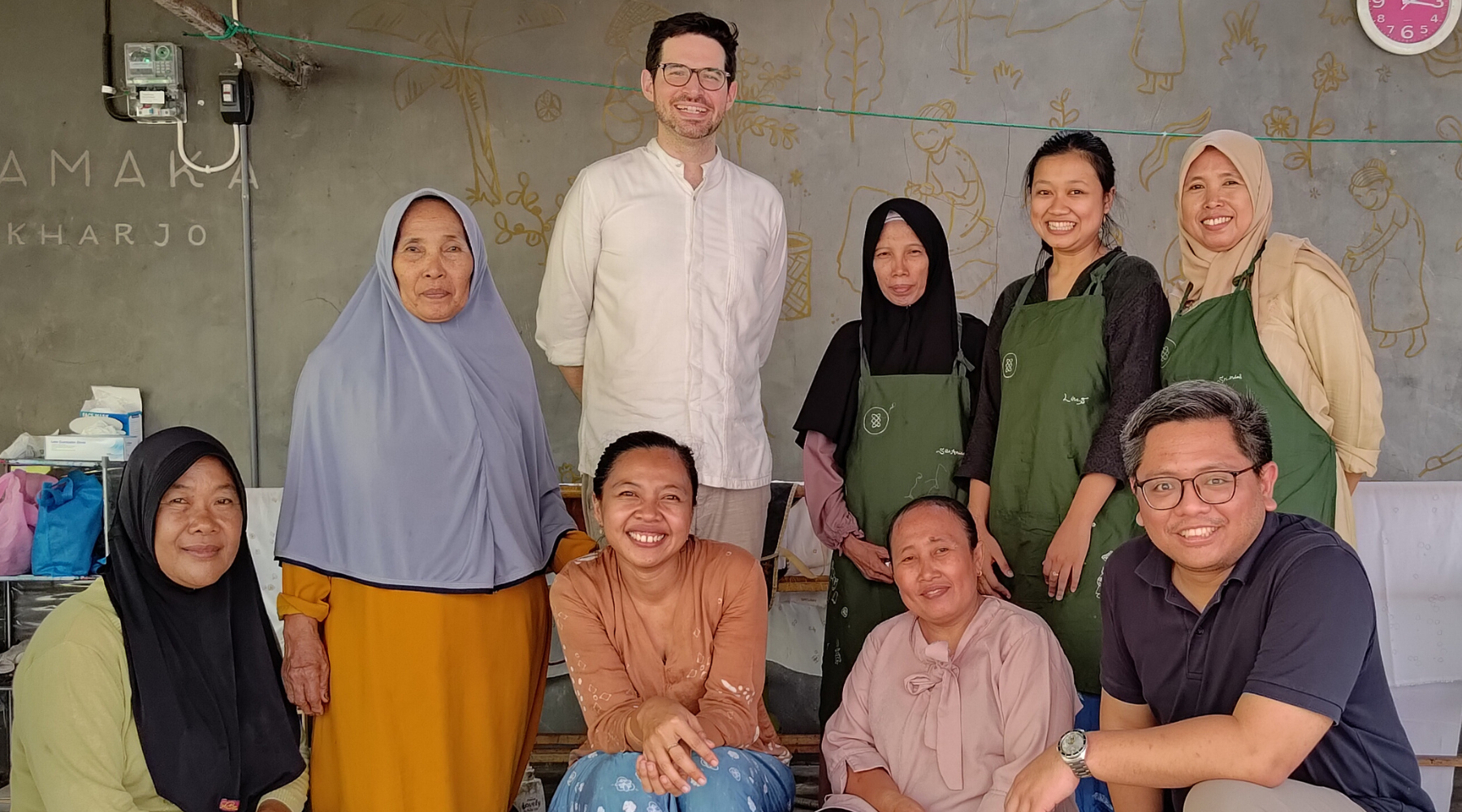 Most women who make your clothes are hidden between complex layers of outsourcing. 

With virtually no legal framework to protect their rights, they are the most vulnerable 

when it comes to exploitative practices. 

So, how can you tell whether your purchase is really making a difference?
It's hard to keep my eyes open. I'm on the train to Central Java after a long month spent mostly in the field, training our Mama Kapas to make organic compost and kicking off the beginning of the next cotton planting season. This time though it's different. My mind is busy thinking over details and documentations that will be checked in the coming days.
I'm about to meet two team members of Nest who have come to Indonesia as part of our annual re-certification process. This certification is important to us as it specifically works to elevate standards in the informal handcraft sector - which is exactly what we've been trying to do since Day 1.
In the next days, the inspectors will go to different Rumah SukkhaCittas and verify our compliance with over 100+ standards that ensure our pieces are not only handcrafted, but Ethically Handcrafted. From wage and production records, safety precautions, and environmental stewardship – no detail is too small to be checked.
In short, they're here to verify all the nerdy parts and make sure your SukkhaCitta piece is really changing lives!


Here's Jed inspecting some of the 100+ ethical and sustainability standards in Rumah SukkhaCitta. He even got to taste Ibu Lina's amazing cooking – how lucky!
Standards for the Most Marginalized Women
Most of you know that we're a B Corporation – a third-party certification of businesses who are committed to use their business as a force for good. Our traceability and community impact later won us the Best for the World award from them, proudly representing Indonesia in changing the narrative.
But we felt it wasn't enough.
You see, supply chains are complex. There's our team in our HQ. Then there's the Ibus stitching, weaving, hand-Batik-ing, dyeing, and finishing our clothes. All the way to the farmers who grow the materials. There are so many tiers involved in producing one piece of clothing. When you hear someone say Ethical, the question is, "For whom?"


Working directly with mothers in Villages, not factories, each SukkhaCitta piece is made to raise the standards. Protecting women who need it most.

What makes the Nest certification special is that they have been pioneering safety environmental and ethical standards for one of the world's most informal and generally overlooked industries: Handcrafted, artisanal goods. An industry where most of production is outsourced to women working from home. Invisibly.
Whatever little regulation was implemented following the Rana Plaza disaster of 2013 never touched this highly informal sector. Leaving mostly women completely unprotected and exposed to a network of middlemen who takes all the benefits. 
When you hear someone say Ethical, the question is, "For whom?"
So, together with leading experts of compliance and labor rights, Nest has created a set of over 100 rules and standards to guarantee ethical and environmentally sound practices – from guidelines on how to calculate fair piece rates, to the use of Personal Protective Equipment (PPE) during dangerous processes like handling open flames or clearly marked, unobstructed emergency exits.


Each of our Rumah SukkhaCitta is designed with the highest health and safety standards. Ensuring a safe, healthy space for our Ibus. 
Verified on the ground – from document checks to interviews
Unlike other certifications, Nest verifies our practices every year.
That's because so many things could change when you work with the informal sector. And they don't just take our words for it. Besides checking our documentation, they also interview our Ibus - without us or the community leader present - to ensure what we're saying is what's really happening on the ground.
I cannot help but feel a sense of pride as our community leaders take the Nest team through each Rumah SukkhaCittas. Explaining our work processes, showing documentation of recent safety and first aid trainings – all the way down to attendance and wage records; all meticulously kept by our Ibus.


Each of our fabric has their own living wage calculations. And everything gets checked, along with wage records actually received by the Ibus!
The most important documents that are checked every year are our Time Motion Studies (TMS) records. It is the way we calculate how much our Ibus should receive for each fabric. To set it, we record how long it takes three different Ibus to finish one fabric. The average time is then used to determine the minimum piece rate that is in line with a living wage. 
To give you an idea of how complex and laborious this process is: Each single product and its subparts has its own TMS – even the little rope that ties your #MadeRight pouch. No detail is too small when it comes to paying fair wages.
Why all the trouble?
If you've ever gone through any kind of certification, you know that it's a lot of hard work. Both during the year as we have to keep up with requirements of annual safety and worker rights trainings, record keeping, etc. – and, of course, during the actual audit itself. 
Even though the process can be frustrating at times, setting and following clear standards is incredibly important. Imagine the workers of Rana Plaza had a way to report the cracks they had noticed along the workshop walls not just to their supervisor, but to the brands who produced there. What if the workshop had been inspected once a year by an independent party?
Over 1,100 textile workers would probably still be alive today.
Yet, even seemingly small things like having a well stocked First Aid box or readily available protective gear when dealing with hot water during the batik process can safeguard the protection and dignity of our Ibus.


Knowing their rights and being paid living wages uplift our Ibus' entire communities – and makes their craft interesting again for the next generation, bringing many young women to our Rumah SukkhaCitta every year to learn.

 
That's why it's so important to normalize the use of ethical practices in Indonesia's craft industry. Setting clear standards and having them verified independently is the only way to bring about meaningful change in this highly informal sector – where exploitation and environmental destruction are still very much the norm. 
Being Accountable to our Standards
Finally, in a world where everything is marketed as ethical, green or sustainable, certifications like B Corp or Nest help cut through the noise. They are our way of being accountable to our own standards – and, of course, to you. 
We want you to know for sure that your choices are making a difference. 
Because it really, really does: 
Upon saying our goodbyes, Ibu Sri Endah tells me how, to this day, things haven't gone back to normal since the onset of the pandemic. How many husbands are still out of work, how general demand for anything in the region is very, very low. 
What has kept her and her family afloat was your #MadeRight pieces.
Setting a new standard for Indonesia's craft industry often feels like an uphill battle. But it's a battle that needs to be fought and won. And we wouldn't be able to do this without your belief and unwavering support. 
Thank you for choosing change. 
Warmly,
B.