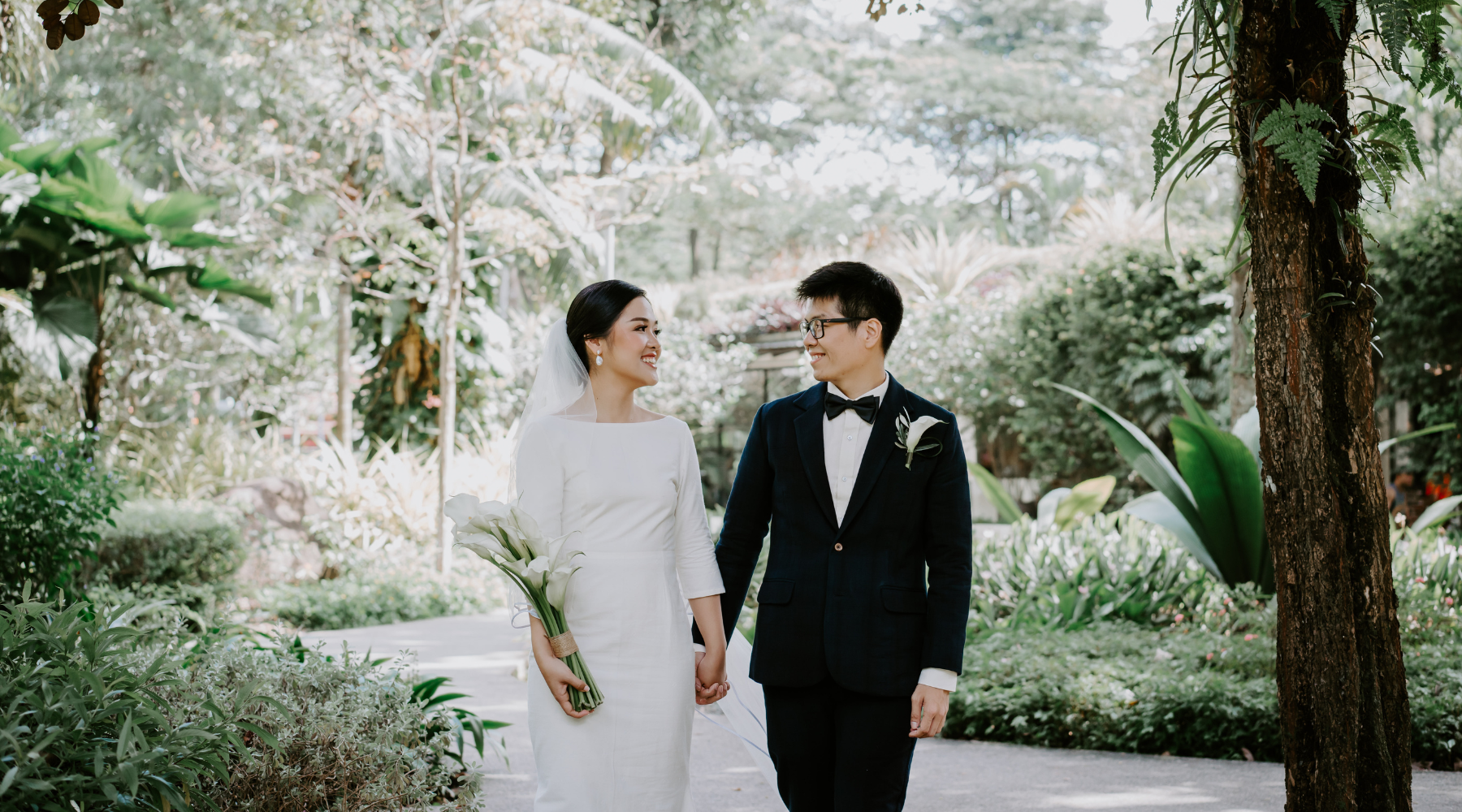 For their most meaningful day, Irene and William wanted to celebrate the right way. Their wedding was purposely designed to reflect their personalities and values. From mindful floral arrangements, digital invites, re-wearable dress codes, even down to the suggestion of the use of public transport they advise to their guests, every little detail was well thought out and executed. They also took this as a chance to share the charitable causes they're supporting to their fellow friends and family.
A heartfelt, noble and, most definitely, meaningful wedding.
Read the interview below.
SC: Hi, Irene & William! First of all, congratulations on your wedding! Please do share more about your love story. How did you meet?
IA: We served at the same church but didn't know each other because we were in different ministries. Fast forward to 2016, my university's Indonesian community was organising a theatre production for the 10th year running. They invited all the alumni to participate and William took the chance and headed the Design and Sets team— the exact same team I wanted to apply for as a member. With common interests like travelling, food and animals, we hit it off pretty quickly. We made it official after the theatre production a year later and while having lunch with a few church friends, one of them showed an old photo from 2013. It was a bunch of volunteers serving at the last mass before our church closed down for a two-year long renovation and there were me and William in the same photo. There are so many other moments where we "could have" met in the past, but in the end we met at the right place, at the right time.
SC: What was your journey into sustainability like?
IA: My journey has been rocky but it keeps evolving. I tried many different ways of "sustainability"; removing beef from my diet, volunteering in a food rescue organisation, launching green initiatives in my workplace, and the list goes on. Sometimes, there's this naggy feeling that I'm not doing enough. Other times, I complained to William that leading a sustainable way of life is so restricting and resource-draining (both money and time). But he reassured me that there is no single right way of being sustainable, so we just have to keep trying our best. William, being the practical one, believes that we should do small things right before moving on to bigger things. No surprise that he's the mastermind behind recycling, repairing, and reusing at home.
For us, sustainability is a way of life. It's not just about the earth, but also the humans within. And because it involves humans, it can never be so straightforward. It's complex, intricate, and impact-driven. Something that we always strive for no matter how imperfect our ways are.
"[...] wearing SukkhaCitta is definitely one of our purposeful intentions for the wedding."
SC: Now, tell us more about the wedding.
IA: We only had one celebration in Singapore with our dear friends from the many chapters of our lives, and we wanted to do it right. It was a simple, intimate Holy Matrimony at the church where we were (and are still) serving. While we couldn't (and didn't want to) set up extravagant and elaborate decorations for the weddings, we use that opportunity to make everything else intentional and purposeful. For us, that is how we could let our friends know who we really are, the values we're emulating, and the causes we're supporting. And wearing SukkhaCitta is definitely one of our purposeful intentions for the wedding.
We are very conscious in keeping everything as sustainable as possible. We engaged a small-scale florist who works only on an ad-hoc basis to make sure that we have more control over the flower types and materials used. She helped us to minimise the use of ribbons as much as possible and swapped them with jute strings and leaves. Guests were also encouraged to bring the pew posies home to give these flowers a second life.
Only a handful of printed booklets are available for the priest, coordinator, our parents and us while projection slides are available for all guests to follow the order of ceremony. We did away with unnecessary wedding stationery and decoration, and just stuck to what we already owned at home. Digital invite is the obvious choice for us and we thought it's perfect as we could write a few FAQs on the website, reminding them to not buy new clothes just to attend our wedding and to take public transport whenever possible (yes, we're naggy like that!).
As much as our wedding is a celebration of our union, it's also a celebration of people and the society we live in. Instead of giving out wedding favours, which most people do not use or consume anyways (true story of ours), we decided to make a donation on behalf of our guests to the Rumah SukkhaCitta Foundation. Dea has kindly introduced us to Project Mama Kapas that is definitely a hit for two environmental nerds like us. Our guests could opt in for the digital certificates and project updates from SukkhaCitta directly, walking them through the impact their donation has on the Ibus and the soil in Eastern Indonesia.
We genuinely want our friends and families to be part of our special day and no amount of money can compensate for their presence. In our wedding invite FAQ page, we explain that we are not accepting any donation in-kind because we would like to donate all the cash gifts received to two causes that we're supporting. William picked ItsRainingRaincoats, a charity organisation that supports migrant workers' welfare and integration in Singapore, while I chose to support New Life Stories, an Institution of Public Character (IPC) that strives to equip children of incarcerated parents with essential skills during their developmental years. Our guests could scan the QR codes and read more about these organisations before choosing which box they would want to drop their cash gift into. In fact, we have a few generous friends who ended up supporting both causes. We're grateful that our wedding could become an avenue to introduce our friends to the values and causes we're championing and to share our happiness with these charities. 
SC: Tell us more about your dress! What was the whole process from your point of view like?
IA: William had never really invested in a solid set of suits, so he seized this chance to get a tailor-fit blazer, shirt, and pants. He wants to keep them as versatile as possible, so the Malam fabric is the obvious choice for both blazer and pants. I myself am familiar with that fabric as I own a pair of pants in the Senja version. As for the shirt, we request it to be made from the same fabric and production batch as my dress'. The fact that he keeps saying how nice and cooling the fabric is on the skin is a testament that he has slowly fallen in love with the craftsmanship Sukkhacitta brings. Disclaimer: He never said this when trying out other clothes before!
As for me myself, I have always been a big fan of a simple yet classic wedding dress, something that fits my body type and characters. When I went to meet Ana for the first time, the ideas just flowed naturally: mermaid dress, bateau neck, ¾ sleeves, v-shaped back. I would say I was pretty decisive back then as if I have planned this my whole life, but actually all I did was saving 3-4 wedding dress photos from Pinterest. As for the fabric, going off-white is a no brainer for me, but when I saw TITIK in white, I just knew that is The One. I want it to be a reminder for me that I'm enough and what I do is enough. 
And the fabric's intention came into the picture in the designing process as well. The childhood dream in me was screaming for a super long train like in those fairytale weddings, which Ana had kindly proposed to be detachable for ease of walking. I was also toying with the idea of adding some flower appliques on my dress to add different textural elements. But when looking at the TITIK custom dress half done, I was convinced to keep my dress really minimal. It was and is enough on its own. I want people to focus their attention on the Holy Matrimony instead of my wedding dress.
SC: Will you be wearing these pieces after your big day?
IA: Absolutely yes! William is not a big fan of shopping for new clothes, so we'll definitely see him wear this suit until he outgrows them. He opts for a more casual design for the blazer so that he can rewear it for other occasions.
I honestly don't see myself re-wearing my wedding dress. The dress was so special that I don't think other milestones in my life would ever be a perfect occasion to re-wear it. So, I decided to repurpose my dress into a two-piece. At the time of the writing, this repurpose project is still in the initial stage, so I'm excited to see magical pieces that will come out of the dress. Ultimately, I would need something that I can comfortably re-wear for years to come.
SC: What's the one thing you hope the person reading this will take away?
IA: That YOU are enough and whatever you have planned for the special day of your life is enough. "The bigger the better; the more merrier" — that's the sentiment that the society reinforces and the social media amplifies, but you have a choice to do you. It does take a lot of courage to stand true to yourself when it comes to facing the expectations of family and society around you. We hope at the end of the day, you discover what truly matter(s) to you and get a chance to celebrate that with the people you love.
SC: What's the best advice you've ever received?
IA: That it's better for millions of people to do sustainable things imperfectly than just a handful of people doing them perfectly. William often reminds me of this quote whenever I feel jaded with humanities (and myself) not doing enough for the environment or society. In doing all these positive things for the world, we should not lose sight of what's important— to have compassion in our actions. We can only make the world a more sustainable place when we have a collective push from everyone.
Photos by: Caline Ng Photography