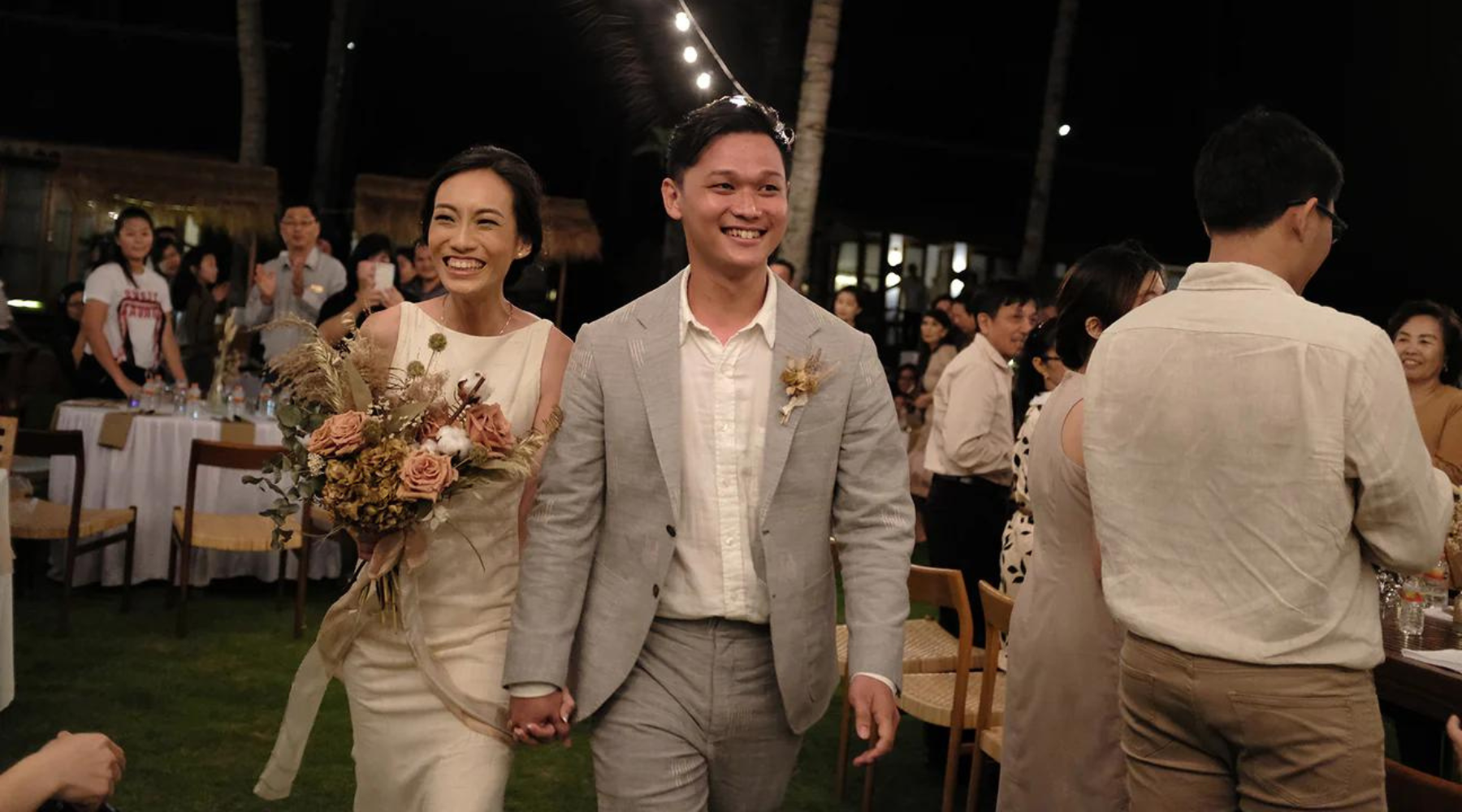 For some, weddings are a dream come true. The day you've been waiting for all your life. You still remember all the pictures of immaculate flowers, pastel hues, and the bride in her beautiful dress. A happily ever after.
But did you know that an average wedding is really heavy on the Planet? An average wedding can contribute to 272 kgs of waste and 63 tons of CO2 emission. That's a lot for just one day! Good news is that with some creativity, there's a lot you can swap to lower the impact. If the concept seems a bit daunting to you, not to worry! We've rounded up 8 attainable things you can do to celebrate this meaningful moment in a kinder way.
An average wedding can contribute to 272 kgs of waste and 63 tons of CO2 emission.

Saying 'I Do' to sustainability
First thing first. A wedding involves thousands of decisions so it's gonna get overwhelming. What will help is for you and your boo to sit down and set your priorities straight. Having clarity over what you both value will be the compass that guide you in the next months so that your wedding can be a reflection of your love story.
Next, get your family on board. Especially in Indonesia, weddings are Big. And as much as we hate it, it's a family matter. So having their support for this important decision of your life early on will save you a lot of tensions by aligning expectations.


Where to start
1. Be intentional about your guest list
It's much harder to have a low waste wedding with a big guest list (it's not impossible though). Get together with your family to determine the most essential list of people you really want to celebrate the special day with – and ask them to RSVP ASAP. That way, you'll have a good estimate of guests that will help you narrow down the venue.


2. Choose paperless invite
It'll save you printing costs and headaches. But if real paper's a thing for you, opt for a recycled option and avoid laminates/coatings as it's most probably made of plastic (non-biodegradable).



3. Find a venue that embodies your love story
Rent a space that requires minimal decorating. Renting a hotel ballroom or an empty space requires a lot of resources to make nice. Choosing a location that sets the right ambience already (such as a rustic backyard, romantic garden, or a quiet beach) is a sure way to tell your love story in a unique way. Another idea is to find a venue that offers reusable decorations you can rent.
If possible, find one in the proximity of where most of your guests will be coming from. Having a destination wedding and flying all your guests is a quick way of raising the wedding's carbon footprint. An idea is to have a very intimate wedding and making a holiday out of it.
Ask if the venue has an on-site composting option. If not, are they open if you bring in an outside vendor who'll help you manage any waste from the event. Having an on-site catering option is also a plus.



4. Keep food local and donate leftovers
Go local. If your venue doesn't offer catering, try to find restaurants that are in the neighborhood. If possible, choose menus that use seasonal produce that supports local farmers. Psst.. this is proven to be better for your health too!
Donate the leftovers. It's almost impossible to have just the right amount of food. In addition to not over-ordering (that's why it's important to have guests RSVP ASAP) ask your venue and caterer if they can help donate the remaining food instead of throwing it away.
Minimize single use plastics. Keep your guests hydrated by using reusable cups instead.



5. Wear something you can wear beyond the big day
Reuse. Did you know that most bridal attires (laces, satins, sparkly embellishments) are made of plastic? Besides its high environmental footprint, most dresses will never see the light of day after your wedding. As much as possible, opt to rent or give mom's dress a new life.
Invest in a sustainably made piece. Your choice can have a positive impact. Choose a brand that ensures that it's ethically made and supports the makers' livelihoods (actually ask, don't assume it's true just because the brand uses the words in the marketing). Opt for a natural material and have them custom it to a style that you both can re-wear beyond the big day.
Invite your guests on the journey. Tell them there's no need to get a new dress just for the wedding. Encourage them to re-wear what they already own, shop second hand or rent an outfit. It's also the perfect time to introduce them to SukkhaCitta ;)



6. Low-waste flowers and decoration
Ask your florist to use local and seasonal blooms. Most imported flowers have to be transported all the way across the globe in a chilled container. Using flowers grown locally give that extra degree to make your wedding truly special.
Dried flowers are awesome. Mixing local blooms with dried flowers add a design element. Best part? You can keep them as decoration later on in your house or office. Your guests can even take them home!
Go foam free for the installation. Foams break into microplastics. And they cannot be reused. Ask your florist to get creative without the plastics!



7. Give and ask for eco-friendly gifts
Give a consumable party favor. Me and Bertram actually made jams for our guests (3 days before haha). It makes a great story cause making something for them feels a lot more special than buying things. PS. They loved it!
Don't put your name and wedding date. Don't worry, your guests love you and will remember the day by the memories no matter what.
For a better tomorrow. My favorite tip: you can also choose to gift a tree or a donation to a charity in their behalf.Guaranteed to make the wedding even more meaningful.



8. And lastly: Enjoy the moment
Among all the hectic planning, it's easy to forget that your wedding day is a celebration of your love. Things won't go exactly as planned. And that's okay. It's your special day - and what you will cherish for years to come will be the memory. It's your day so remember that you have noone to please but yourself <3
 _
What tips do you have to reduce the impact of your special day? Do let me know so I can keep updating this Guide. As always, I'm only an email away :)

D


PS: If you wanna learn more about the kind of suits, dresses and zero waste gifts our Ibus can craft for you, head over to our Wedding section!