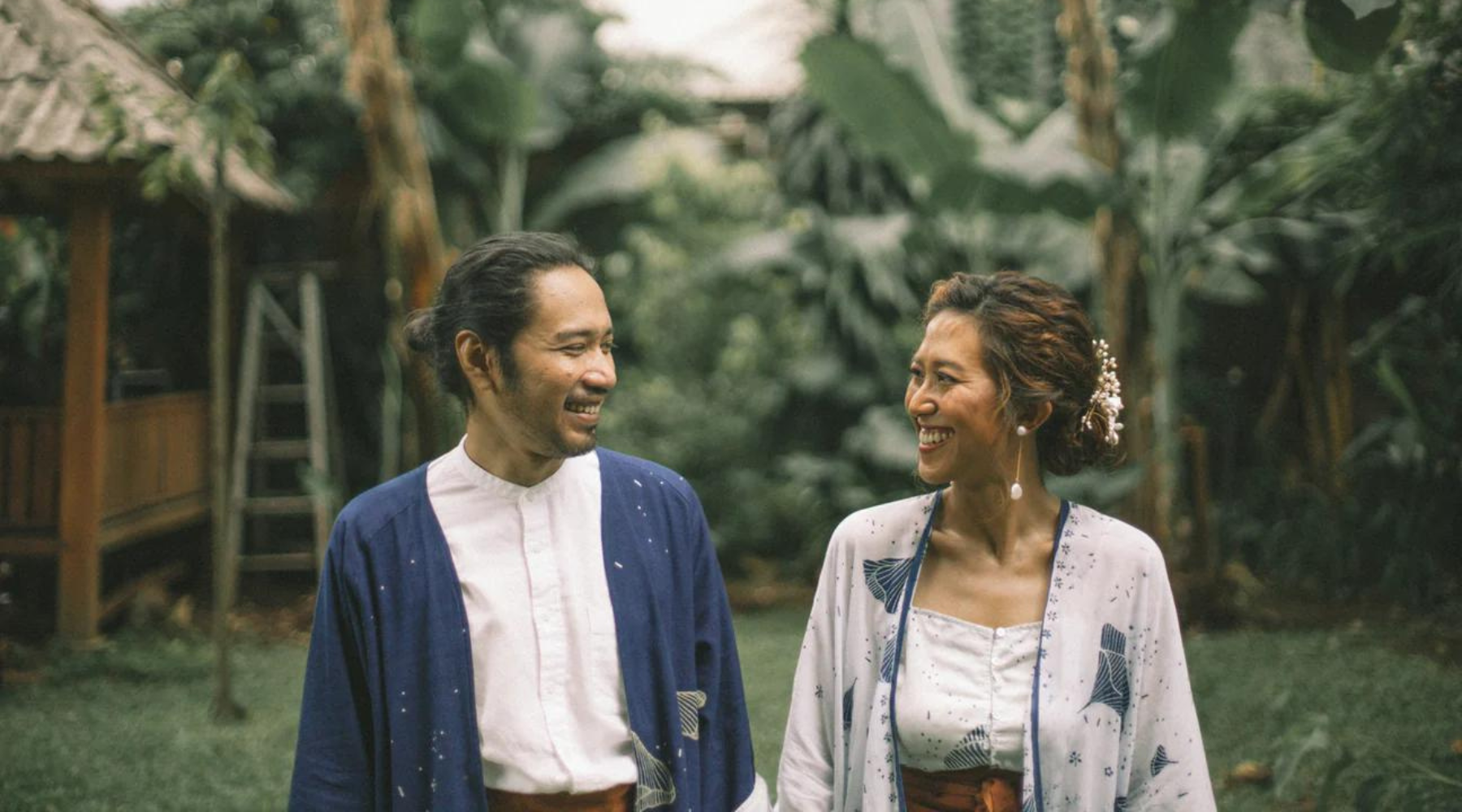 Hey Putri! First of all congratulations !!! You guys look really happy and the pictures are heartwarming. How did you guys meet? 
We met at a Freediving Club in Jakarta. My best friend asked me to join her since she knew that I would be interested in extreme sports. While Iqbal was already months ahead in the Club and since he is more experienced than me, our coach often ask him to be my buddy (terms for a person who need to keep an eye out for when a diver performs),
We get to talk more often and find out we have plenty in common like board games and anime.  We're basically nerds geeking out on our stuff that we loved.


Why did you guys decide on having a sustainable wedding? What were the thoughts that were important to you?
We decided to get married in March 2021. We always dreamt of having an intimate wedding (read: within a limited budget). We believe that the journey after is more important so we want to make sure we allocate our budget to the after. The pandemic made it easier for us to arrange and convinced our parents to have an outdoor 'akad' with only 30 people involved.
We created a Wedding Manifesto for us as a reminder and a constraint on how we want this wedding to stay close to those values. One of the values, which is to Reduce and Reuse as much as possible, connected us with SukkhaCitta since we want our wedding clothes to be used for many many more times after.


What were the most difficult challenges in organising your own values-driven wedding?
For me, I find it exciting to plan the wedding from the beginning. We could make our day memorable and intimate the way we want it, within our agreed budget. I didn't expect some areas to be quite costly and so the budget needed to accommodate that. I am so thankful that I'm surrounded by amazing & talented friends which later on become our wedding photographer, MC, PIC and streamers.
For Iqbal, since we didn't want to hire a Wedding organizer, we take our time on weekends to delegate tasks and tackle the checklist on our own. He also finds it challenging to maintain contact with all of the vendors within his day to day work to make sure everyone is on the same page.
Could you share more about the process of choosing your outfits, from the idea to the final piece?
We both like simplicity and practicality (Hello from Capricorn and Sagittarius). But we also love the idea of staying grounded to the roots and we also want that our clothes can be worn on a day to day basis.
I was born from a Javanese and Half - Chinese parents. Iqbal's family is from East & Mid Java. As the one with a design background (4 years of college didn't go to waste!)I propose to him to make our family's element present within our clothes yet combine it with our story on how we are both united by our love for underwater activity, so we also want the color palette to carry a calm, breezy, laid back vibe that reminds us about the feeling of the ocean.
Yeah, I know. It's a lot of constraints that we made for ourselves :')


Putri's first sustainable wedding attire moodboard


At first I imagine something more formal like Kebaya Encim (square detail and very rich in colors & embroidery) and he will be topless but wearing a detail and ornamental bottoms or more formal with suits. But it doesn't feel like it's laid back enough to be worn everyday and feels too timid.


Putri's second sustainable wedding attire moodboard

The 2nd sketch feels very laid back. With fabrics that will feel very easy to be worn on a hot day in Outdoor Park but still have a strong character to be worn for an Akad. We also planned to wear a tenun ikat from a local artisan but when we tried, we felt that it would be too heavy and hot on that Day, so we dropped it and changed it to the ALUNAN Kain :)


  Putri and Iqbal's on their wedding day
Why did you both choose Alunan? 
We think that it's more Alunan that chooses us rather than we choose Alunan.
We both know we want the color palette to be blue and white. And Alunan have these watercolor like patterns that resulted due to the process of reverse Batik and created a water stain similar to watercolor painting which is very beautiful and one of a kind (I get very geeky realizing these water elements is in a water wedding theme).
Plus! Ginkgo leaves means longevity and eternity. It's like a prayer embedded within the fabric for our relationships and endeavour ahead.


Ginkgo leaves means longevity and eternity. It's like a prayer embedded within the fabric for our relationships and endeavour ahead. 
What would you tell your younger self, having gone through all the preparations? 
We're just happy that we ensure to track all the budget and preparations in detailed documentation so it's very easy to get back to again. There are things that we didn't plan that have happened no matter how detailed we try to plan it all out. but that doesn't make our wedding less memorable.
We carry so many memories on that day that make us feel loved. That alone is enough.
Anything you want to say to the Ibus who made your #MadeRight clothes?
Among all of the questions this is the hardest one. I hope that the Ibus can read the story and know how happy and humbled we are to be able to get our hands on something so beautiful. And I hope they know that they contribute in making us feel very special and we want them to feel special too.
And we hope that we can contribute no matter how small for their wellbeing. We wish them health and happiness.


_
Putri wears a custom ALUNAN Cami and Obi belt. Paired with the Porcelain Sylk Throw and Menuju Malam Kain. Iqbal wears TITIK Raw Fitted Shirt and Obi belt. Paired with a custom ALUNAN Jacket and Kain.
Interested in making your dream sustainable wedding dress a reality? Head over to our Wedding section!