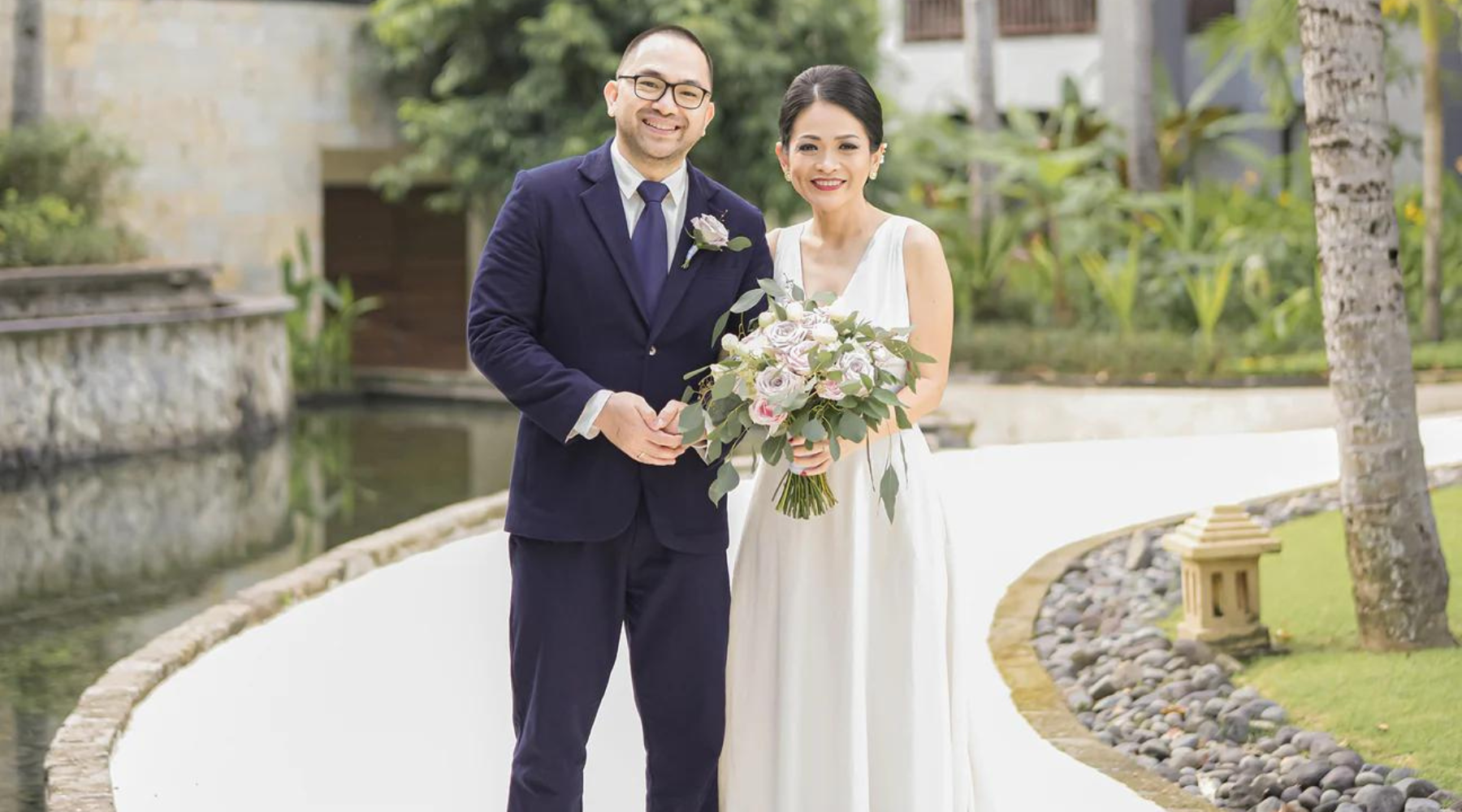 Hi Tressabel! First of all, congratulations on your wedding. Please do share more about your love story. How did you meet?
We met in 2003 at a basketball competition where our home church participated but it was not until 2008 the friendship started. I moved to Bali in 2010, we visited each other regularly and stayed in touch, going through years when we thought the friendship could grow into something deeper. Somehow, something was always in the way. We even had a major setback that put our friendship to an end – or so we thought.
Entering the year 2020, Yovan contacted me again. In-depth conversations reconciled us, we got to know each other better, and Rick Warren's book "Purpose Driven Life" aligned our vision about what they want to do in life. Together.
On August 27th 2021, Yovan proposed. There's this whole story about how he had to search far and beyond to find a conflict-free gemstone for the ring. That engagement ring is just one of the reasons why our wedding echoes messages about our longing to make this world just a little bit better and kinder.
Tell us a bit more about yourself. Hotelier, writer, animal activist. How do the dots connect?
My discipline is communications. When I reached what I believed as my top position in the hospitality industry as a Marketing Communications Director, I realised I want more… more than what reads on my business card.
So, I exited the corporate force in 2018 to start my boutique copywriting agency where I can write more about what sets my heart on fire; animal, women and children welfare, literature, and social affairs all the while trying to run a marathon at least twice a year.
I regularly contribute articles to women's online communities and help non profit work on sterilising stray dogs and cats. Nothing flashy, nothing about it needs a title.
But I know that I am on the right track of fulfilling my purpose
What does sustainability mean to you? What was your journey into this issue like? 
There are many different definitions of sustainability, but I try to simplify it by looking at the word etymologically. To 'sustain' means to keep something going or provide support.
Hence I view sustainability as an approach to sustaining the life of something and at the same time supporting the planet by at least minimising the harm.
What's the best advice you've ever received?
When we buy something at a cheap price, someone is actually paying the price. Where did I get it? It's you guys!


Tell us more about your dress! Why was it important for you to customize a SukkhaCitta piece for this special day?
Yovan and I strongly believe that our union is a channel for us to make a change, by using our talents and resources in areas we see we can improve like animal as well as women's welfare.
We agreed that our wedding should be a prologue to who we are as a couple. We are a couple who fall in love consciously, grounded to see what's going on in today's world and admitting that we can do something to aid it. Better and kinder.
So, we picked a few key elements in weddings we believe will get attention: Dress (and suit), Food, Bouquet, and Souvenirs.
Dress and suit. I am quite particular when it comes to taste, but also predictable. Clean cuts, neutral colours, basic that works. SukkhaCitta knows how to translate that into my dream wedding dress that gets people to say "THAT dress is so Tressabel".

But there's more. We also know SukkhaCitta's main goal is to better the life of women by ensuring they can earn a fair living, send their kids to school, and gain financial independence. So... why think twice?
Food. We asked the venue, Conrad Hotel if they work with a composting company and assist our food waste to be picked up by them. They do! A few days after our wedding, we were sent a report that states the number of waste we produced and how it's being processed; to a recycling company, to a farm, livestock owners, and to be used as compost.
We gave no souvenirs. We donated the souvenir money to an animal shelter and our guests received a certificate on behalf of their name. This is to sound the importance of adopting animals to minimize the number of overpopulation, abuse, and put an end to dog meat trade. 
Wedding bouquet. I tweaked the speech. My bouquet throw was not only meant for single girls. It's for all women with different dreams. Guess what, the one who got it got her wish come true… that is to be able to earn more money!
What was the intention behind the design and fabric you both chose? Do tell us about the whole process from your point of view!
Titik means stop. It means enough. It represents my feeling about how we have been using all the resources on this Earth just enough.
Enough. We have used more than enough.
The moment I first met Ana, my gut was telling me… it's going to work. Ana recently adopted a dog from a shelter at that time so I feel like we're on the same frequency.
They pay attention to the detail, and give brilliant ideas like; detachable train, and pockets! Pockets!


Will you be wearing these pieces after your big day?
Of course! That's exactly the purpose behind the clever design.
What's the one thing you hope the person reading this will take away?
That they will be able to see a glimpse of hope in a tainted area that concerns them. You may have to look harder, but there is always a solution. A chance no matter how small.
_
Tressabel lives in Bali with her husband and fur kids. On her spare time, she likes to write about her journey living lighter and impacting those she can.
Interested in making your dream sustainable wedding dress a reality? Head over to our Wedding section!