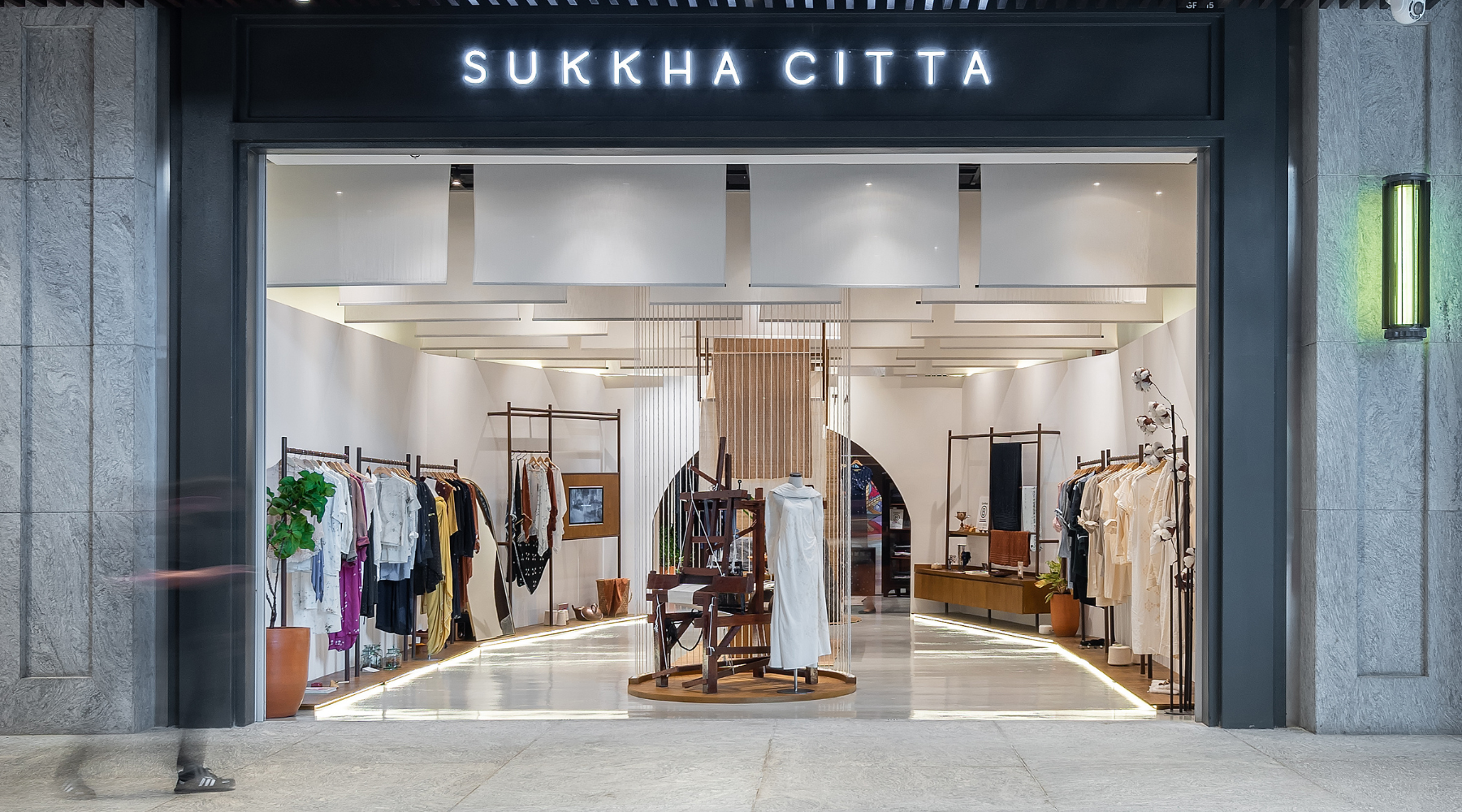 SukkhaCitta has always been about purpose. So when we had the opportunity to open our first Flagship store in Ashta District 8, Jakarta, we couldn't think of anyone else to design it but our long-term friend, Gabi Osri from AGo Architects. She shares with us the creative process behind this new home - and how intention is embedded in every detail.
Could you tell us a bit about yourself and why you've supported SukkhaCitta for all these years?
Hi, my name is Osrithalita Gabriela, but you can call me Gabi. I am a principal architect and managing partner at AGo Architects, a green building professional, one of Ibu Arsitek initiators, a community that focuses on supporting women in architecture, and also a mother of twins.
I studied building performance and sustainability for my master degree at the National University of Singapore, and later on, joined a series of research under Prof. Nyuk Hien Wong in NUS on thermal comfort for buildings.
What was your design philosophy for the flagship? How did you translate SukkhaCitta's essence into a physical space?
AGo Architects design philosophy is very much aligned with SukkhaCitta's mission, we both want to create with good intention. So when Denica asked me to design the first flagship store for SukkhaCitta, it was a no brainer, it is just meant to be. I have always believed in SukkhaCitta's mission since they started, and it is an honor to be able to translate their mission and amalgamate it with AGo Architects sustainable design philosophy.
The concept is an interpretation of SukkhaCitta's slogan: "Villages not Factories". We want to bring the "village" closer to you. We want a warm, simple, and honest retail, because that is what SukkhaCitta is all about. 
What do you want the visitors to feel when they visit?
We want you to feel welcomed. A space that is not overpowering the connection of people inside the space, and letting the true heroes shines: the #MadeRight pieces made by Ibus from the villages. We want people to come and experience the journey, the story, and leaves the store with new knowledge, understanding, and hopefully, adopt a bit of SukkhaCitta missions in their day-to-day choices. The store is designed with this concept in mind. 
Tell us more about the symbolisms and hidden meaning behind your choice of design elements!
This is not your typical retail store. Every material that is being used in the retail is intentional. You won't find any lavish and luxury material in this store, because we want to embrace the simplicity and the honesty of the fabric materials. The hero of the materials is the fabric from the villages, and we intentionally wants to put the spotlight on the fabric.
We intentionally put the waste fabric as decorative hanging ceiling, use the KAPAS loom as decorative display at the front of the store, and all the carpets were made by the Ibus in the villages.
You are one of the few architects in Indonesia who is pushing for sustainability in architecture. Why is this important?
As with any other sectors, I think sustainability in architecture has made its way into the mainstream narrative, and it certainly is starting to become a new trend in Indonesia. It is a good start, but it needs to evolve from simply a trend, to become a necessity and the new normal. And of course, sustainability trend in architecture is also not immune to greenwashing practices, as it is with other sectors as well. It is quite common to see developers self-proclaimed their development to be 'green' and slap 'sustainable' label for marketing sake without any actual thinking, let alone implementation of sustainable architecture design elements. 
For me, sustainability in a building is about efficiency. Efficiency in energy, water, material use, while at the same time contributing to a healthy environment and improving the quality of people's life. How we design a building that is shaped by its site and climate, a building that is energy & water efficient, procure local & sustainable materials (which drastically reduces its carbon footprint), minimizing waste, and easy maintainability so it will last longer. It should be designed and built with careful consideration of these principles.
Can you tell us about how you incorporated sustainability into SukkhaCitta's flagship?
Even though this retail is a pop-up store retail, every furniture were designed and made to last longer, and serves multiple long term purposes; these are stand alone products that can be reused for future SukkhaCitta establishments when the pop-up retail store no longer operates. Some of the loose furnitures are using old furnitures provided by SukkhaCitta, and we made the conscious choice to not create new items if it is not necessary. 
The decorative textiles on the ceilings, the drapes, the woven carpet all came from SukkhaCitta's waste and/or trial fabrics back in the villages, we want to make sure these textiles have more than just one purpose, and we want to embrace the imperfection of it. We want to bring it to life (once again). As for the partition panels, we use gypsum boards due to its versatility, and potential multipurpose use after the panels are no longer needed. We planned and calculated every module that are being used to reduce potential waste of the gypsum board, and to also maximize potential future use after the partition panels are uninstalled. This requires close coordination with our contractor to ensure the installation method is mindful of this goal, and they can achieve minimal waste of boards and steels as intended by our design.
Not many designers think about the end of the lifecycle of their design. Since this is a pop-up store, we know that at some point in time, the materials and structures we used in this project will no longer be needed, and eventually becomes yet another waste. We want to be mindful of this, and to the best of our ability, designed and chose the materials that we can re-use for SukkhaCitta's next establishment. 
 We simulate and design multiple scenarios to reuse and upscale the materials from this pop-up store so that post-ASHTA, SukkhaCitta can uninstall the pop-up store, and bring all of the materials and furnitures to their new establishment with confidence that most of them can be reused.
How would you describe SukkhaCitta in 1 word?
Intentional.
Last, favorite SukkhaCitta piece?
After all these years and all those #MadeRight pieces that I have. I must say that my favorite is still the PAGI Structured Dress. My first ever #MadeRight piece. I've worn it in every stages of my life, when I was still single, and then married, wore it when I was pregnant with the twins, and even until now, I still wear it occasionally. It gets more comfortable the more I wear it!

_
For more inspiration, connect with Gabi on social media and visit their website.