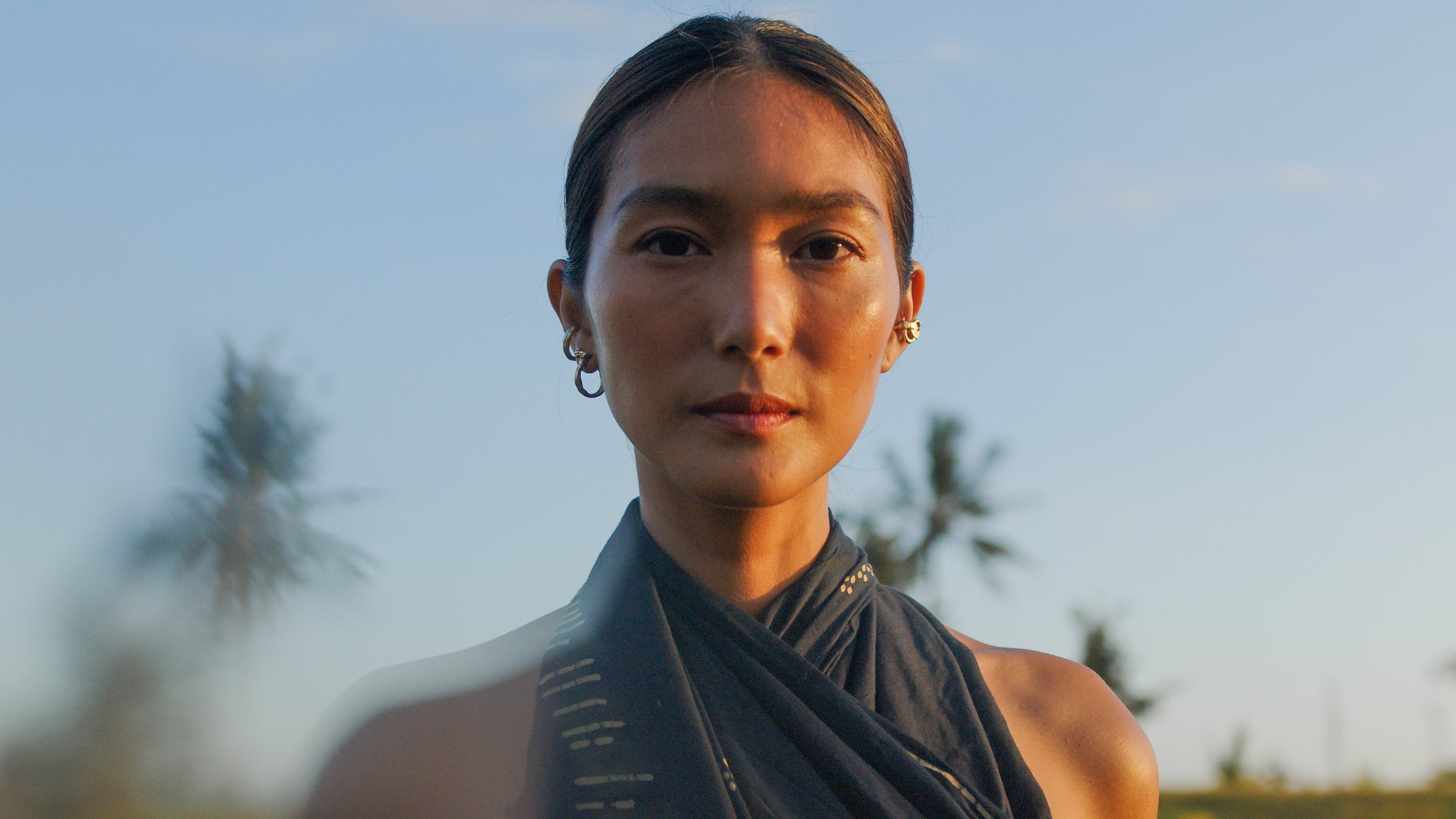 Denica (D): Hi Domiii!! So excited we're finally doing this! Tell me all about you!
Dominique (Domi): Hi Denica :)! So when I was a kid, my family lived in a small village. Surrounded by rice fields, forests, and plantations. Growing up, I played around in waterfalls, did our school projects with clay as a mask, learnt how to cook with bamboo and giving food to farm animals with our neighbors.
It created such a strong memory of how we can live in harmony with the environment.
Then we moved to Jakarta (the capital of Indonesia). Long story short, I became a fashion model. And as you can imagine, the lifestyle is completely different! I was so focused on my career that I got caught up in that world. The last thing I had in mind was how our actions affect the Planet.
Being a model means you have a lot of clothes. There were moments when I felt empty staring at my own wardrobe. It seems not enough, but the truth is I had too many. That hollowness was what led me to do my research, and I was shocked to see how well documented the facts are on the impact of my own fast fashion wardrobe.
I just didn't want to be part of it anymore.
This led me to travel a lot, there was this inner voice that kept calling me back. To be part of Nature again.Together with my husband and our small circle of friends, to see Orangutans in Kalimantan (with BOSF), climbed mountains in the Himalayas, each had its role in my healing journey.
It was part of the process of coming home. I was letting go and yet I was finding myself.


D: Sustainability and mindfulness are obviously a big part of your life now. How do you apply it in your everyday life?
Domi: My journey made me realize that as humans, we need to be more conscious on what we do here. Our life is not possible without our Mother Earth, everything is given freely, and that's why I feel that we need to give back. We have all this modern technology now, yet there are those living in the last mile who are impacted by the choices we make everyday.
That's why everytime I buy something, be it food or clothes, I always ask first: Who made it? How was it made? Are they treated fairly?
Knowing the process of how something was made or grown is really important to me, as different process impact the Planet differently. Choosing to support slow made pieces that are kind allows me to appreciate it more and not consume too much.
D: How do you balance being a mother of 3 but still being Dominique?
Domi: Right now, the most important role for me is being a mother. It has taught me to appreciate the most important thing we often take for granted: time. But also, being a mother reminds me of our Mother Earth too. She nurtures us, gives us what we need. And we are all a part of her.
So in a sense, it has taught me about who I am, where I come from, and where I belong in this Universe.




D: I received a lot of questions from our community on how to live a sustainable life. I'd love to hear your version of it! What would you advise someone who's new at it? What should she be thinking about and how can she start the journey?
Domi: I received this question a lot too from friends who want to start their journey for a more thoughtful, balanced life. I always ask them to first get to know themselves first. What makes you want to do this? What are your concerns? Or are you starting it just because everyone said so?


Knowing what is important to you, what gives you meaning, is the most important step.

Once you're clear on why you're doing this, we can start from what's around us everyday: our wardrobe and our plate. Take a stock on what you currently have. If you, like me, have a lot of things, ask yourself whether you really do need that much or is it just to show off on your social media? If so, why not share something more meaningful so they get exposed to it instead :)?
Everytime you buy something, ask:
"Do I need it? How long will it last me?"

"Who made it? How were they treated?"

These questions will make a lot of things clearer. It doesn't mean that you cannot buy anything. It means buying things that resonate with your values. And that makes all the difference.
D: Living a sustainable life is not always easy. Sometimes, breaking habits get complicated. Where does your motivation to be the change you wish for come from?
Domi: Well I'm cutting myself out from the unnecessary thoughts hahaha. The more you committed to a sustainable life, you'll face lots of obstacles. Not everyone in your community will get it. Some will mock you for it. I don't mind it because I have found my philosophy for a life that matters to me.

My motivation is this: we cannot please everyone. But my Planet and my true tribe will always be there to do this with me together. They need us more, hand in hand we support each other, I know there are still lots of people who care as much as we do.
What brings me down? Sometimes we have to face the system that are very complex, many common thoughts on the surface, and that sort of thoughts are still there until now, including finding ethical thoughts/way of living in today's society; it's not easy.

But again that's okay, just keep doing it slowly step by step, if I feel down I set my own time to break my mind for a while, back to my family (playing with my children, go to the beach, traveling etc), and then I go back and step again.


D: What does #MadeRight mean to you?
Domi: You know, I first heard about your work from a friend. It was also the time I was starting my own conscious evolution, and I've been following your journey ever since. Knowing what you actually do and the stories of the lives touched by #MadeRight gives me a lot of hope.

It also made me realize that this chain of impact is there with literally every decision we make. And with our choices, we become part of the system that either supports the status quo or changes it for the better.

So to me, #MadeRight empowers me to vote for what kind of world I want to live in - also for my children.
D: Favorite thing to wear now?
Domi: Your CANANG Midnight Cami top! Or linen tank. Ahaha I love it so soo much, with sarong, or shorts or working pants, since it's getting summer here so definitely it's my go-to top. Please do more tank tops for me haha!


D: And lastly, it's no secret I love MAHA!! Everything feels very intentional, like there's so much intention and care poured into it. Could you share why you started it and what your dreams are for it?
Domi: Maha started from our journey in the Himalayas. I felt a connection that I can't explain (I even cried when I hugged the Pilodendron forest there). The people and their connection to Nature... it was eye opening and filled my spiritual self. Sometimes we don't realize how powerful memories are to our sense of identity.
When I was pregnant with Meru, I felt a calling to recreate these memories. I finally decided to go back to (online) school to learn cosmetic science and formulate skincare organically. Learning to work with scents, as I feel it can transport you back to moments and recreate feelings in your mind.



I believe that the world is far greater than what we can see with our senses. That's why with Maha Metaskin, I wanted to bridge science with metaphysics to create something great. It's beyond your skin. It's embracing your own body, your own stories.

I source everything responsibly and choose to make my own basic oil, infuse them traditionally with crystals and working with full-moon or solar energy before it becomes your favorite products :)
_
Dominique currently lives in Ubud, Bali, with her husband Ivan Handoyo, 3 children, and 2 rescue dogs. She lives with a lot less wardrobe now, and can be found finding hidden waterfalls and secluded beaches on weekends. Whenever the kids are finally asleep, she is the botanical momma of Maha Metaskin.