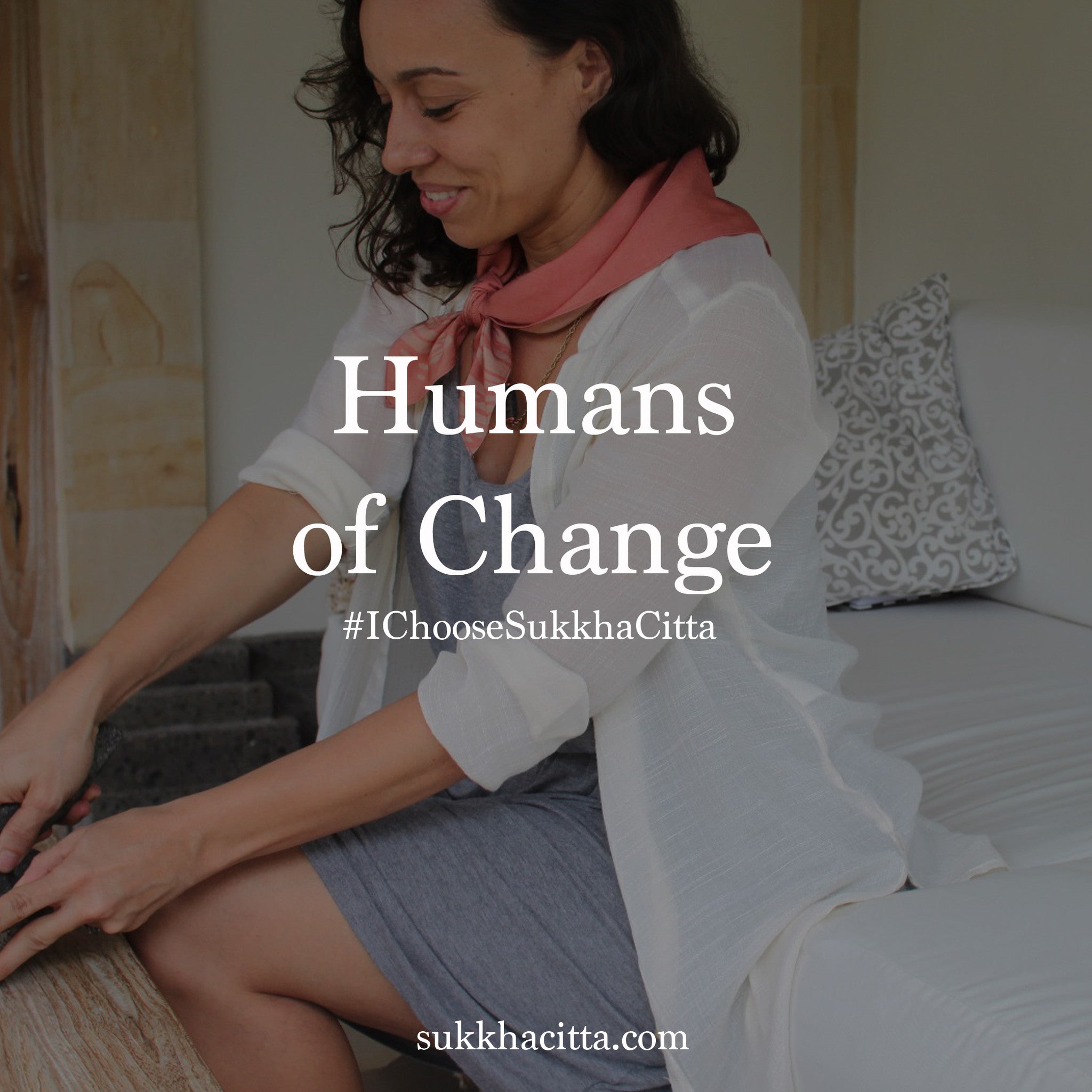 SukkhaCitta (SC): Hi Militza! We know that your background is a fashion designer. Could you share why you started Little Green Dot? Is there a personal reason why inspiring others to live a greener, simplified life is important to you?
Militza Maury (MM): Yes! I had a very different idea about what I'd be doing for a living. I call myself an "accidental environmentalist" because I was busy living this fast-paced city life with a career in fashion - until one day, I fell into natural living.

I remember the exact morning, when I read an article stating that a trusted brand of skincare I'd been using on my daughter - was found to be full of harmful chemicals. Reading those words, it hit me hard - it stopped me right in my tracks.

I was a huge product junkie :) I loved all the bubbles and scents… but I had never even questioned what was in it, what kind of impact all of this excess had on my health, my family, our planet...

So, I went straight to the organic shop (for the first time ever!) with the intention to buy all new, totally safe and organic products for my entire family. But of course, I very quickly realized that there was no way I'd be able to afford it all!

I think everyone should have access to safe, effective, beautiful skincare products. And I felt overwhelmingly driven to figure out how to provide myself with better skincare, how to make my own and to share it with others who wanted the same.

Six years later, I haven't stopped. I developed a skincare workshops, where I've taught hundreds of people, and I share weekly recipes and inspiration to over 150,000 monthly readers!
SC: How do you define green living – and why do you think the world needs more of this?
MM: Creating a green life doesn't mean you need give up a modern life - it's not about living in the past or rejecting the future - it's about being in the present.
In a world that is saturated with preoccupation and novelty - it's easy to lose touch…I think green living is about reconnecting with something bigger and more meaningful, that you are very much a part of.

For me, I've noticed that living green anchors me back in. And I think when we feel those benefits that nature brings - it's natural that we want to protect it, take responsibility and do good things with it. It feels good.

Green living makes for happier people, and I think this world needs more of that.
SC:  I can imagine that it must have been overwhelming to see how everything we use contains so much unnecessary, even harmful, ingredients.  Can you share about the struggle you encountered as you try to tackle this subject? What kept you hustling?

MM: The biggest struggle that I tackled, was to get over that overwhelm! When you start worrying about being healthy, stressing over chemicals - it creates a whole new problem...

Fear is a big motivator, it prompted me to create changes in my life. But I also realized that fear alone isn't sustainable. It's also not very fun.

I made my own natural products at home, at first out of necessity - but soon it turned into passion. Fear got replaced with a sense of enthusiasm as I developed my skills and started making really beautiful things, creating all these beautiful moments.


I adore spending time making something good, nurturing myself and my family… learning something new, getting my body butter super fluffy, massaging infused oils on my daughter's skin and sharing my recipes with others… so that's what I kept focusing on and it's what's keeps me hustling :)
SC: What does success look like for you?
Success looks like spending time doing something I love everyday. I think success feels like opportunity, to provide myself and my family with the time, freedom and means to the things in life that we want to experience. The biggest fear that keeps me up at night is that thought that I've wasted time.
SC: You spoke briefly about the connection between our emotional well being and our habits. That includes the products we purchase and use to our daily routine. Could you elaborate why you believe that changing your life begins in the home – and share a simple tip how a busy, urban woman can incorporate in her life?
MM: Absolutely, I believe that the things that we buy, invite in and fill our homes with - have a huge impact on the way that we feel.

So, for me, I've been wildly interested in surrounding myself with things that have meaning to me, that speak my values, that make me feel connected to something positive - that make me feel good.

There are three mantras that I've been living by - as a busy, urban woman:

1. Simplify - remove the clutter, the excess and make room for the things that truly matter
2.
Buy less, make more
- empower yourself with the skills to be self sufficient and provide for yourself. It's very gratifying.
3. Progress, not perfection - not everything is always exactly how I want it to be, and that's okay.

Nature has taught me to embrace the slow pace, the beauty in the process, the imperfection. And I'm better for it.
SC: What is the most important thing you've learnt from your running LGD? Knowing what you know now, is there something you would have done differently?
MM: The single most important thing that I've learned from running Little Green Dot is to stop overthinking! If you're like me, we're thinkers and constantly planning, researching, making lists, drawing out those mind maps… coming up with new plans...

But growth comes from doing, trying, testing, failing, trying again.... It's active, it has movement and it often involves other people.

Had I known this, I would have spent a lot less time in my own head - fussing, over-perfecting, worrying about things like logos - and I would have spent more time putting myself out there. Because the moment that I did, growth came quickly!
-
Militza is the founder of Little Green Dot, an eco-lifestyle guide for busy people who want to live a healthy, happy & green life. She is the mother of two beautiful girls who loves to get lost finding little inspirations along the way.