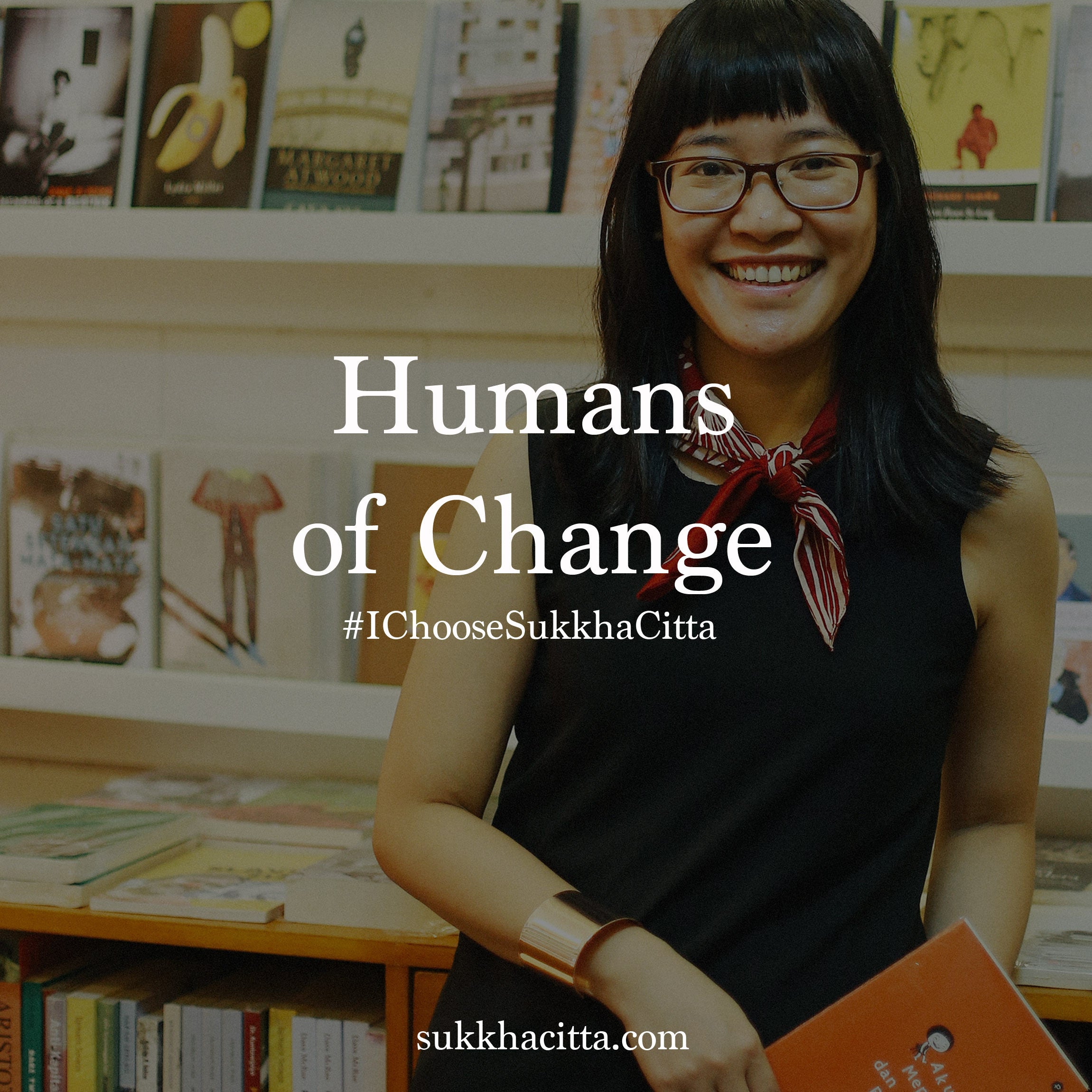 SukkhaCitta (SC): Can you share a bit of your story why you started Post? What are you fighting for with Post?
Maesy Angelina (MA): I never thought I'd start my own bookshop until I came to Pasar Santa with Teddy and Steven, two other co-founders of POST, in July 2014. It was before the hype, only a school for baristas and a vinyl shop were open on the upper floor, and we found a warm community where strangers easily chatted with each other in a dark, humid, non-air conditioned public space. We were longing for alternative public spaces such as these. Then and there, we thought of a creative space that opens every weekend and hosts different creative communities who want to share their work with the public. We booked our own kiosk a week afterwards and opened POST at the end of the month. We reserved one weekend a month to turn POST into a bookshop, while other weekends were dedicated to hosting artists, writers, and small businesses whose values we believe in. After a year, we realized that our true love is books, so we decided to turn POST into a full-fledged independent bookshop.
The bookshop we want to run is one that doesn't only sell books but where readers and writers could meet and interact. We hosted writing workshops, readers' gatherings, public reading, literary performances, blind dates with books, any kind of fun ways we can think of to bring readers and writers together. We collaborated with independent publishers, writers, readers, and some artists – all of whom are kind and generous. In the past 2.5 years, we've done over 100 collaborations – that's how energetic this community is.
Amidst stories of collapsing print media and deaths of brick and mortar bookstores, it is tempting to say that we're fighting to preserve printed books in the digital age. However, truth be told, the only reason POST exists is because it gives us, the founders and the people who run it every weekend, a space to read good books and make new friends who happen to love books as much as we do. It makes Jakarta a place we love to call home. 
SC: Can you share about the struggle you encountered as you strive to run an independent book store while having a full time job? Was there a time when you felt like quitting? What kept you going? 
MA: My weekdays are spent working on research and innovation that hopefully can make a difference in the lives of the poor. For the past ten years I've always worked in an organization full time, but recently I've chosen to take on freelance consulting so I can spend more time at POST. The two worlds inform each other; my work helps me ensure POST has a healthy selection of books with a feminist and social justice perspective, while POST gives me insight on how my work could be done more creatively.
The main struggle, other than being physically exhausted, is to let go of perfectionism and make do with the best option possible. POST could be bigger, we could open for longer hours, and we should do even more events than we do now; but these options are not realistic for the time and energy that we can dedicate to the bookshop. I learned to set my own pace and standards, valuing quality and learning over scale, and experiment a lot. My partners helped me to laugh often and reminded me that for POST to thrive, it should always be a happy place for people who run it.
SC: What do you think the world needs more of?
MA: The first thing that pops into my head is laughter. Laughing always makes me feel instantly happier, no matter how angry or sad I am at the time. Things just don't seem so bad after a good laugh. It is also easier to be friends with someone you've shared a laugh with. In a world that has become more polarized with each passing day, perhaps we need a way to laugh together with people we may not always agree with.
SC: What is the most important thing you've learnt from your time running Post?
MA:  When we first started, there was still a misconception that independent publishing means less quality control compared to major publishing corporations, but we have seen this change. More and more readers come to POST for recommendations from independent publishers and they are eager to get to know new writers. Last year, the best books in Indonesia according to Khatulistiwa Literary Award, Tempo Magazine, and Rolling Stones are published by independent publishers (if you're curious, look up 'Raden Mandasia si Pencuri Daging Sapi' and 'Kiat Sukses Hancur Lebur').
Another thing that matters now, more than ever, is the personal touch at POST. We always try to convey that POST is not a brand; it is a space run by living, breathing people with strong opinions and genuine love for books. This means being open about our preferences, including political stance, and candid about our limitations. A space as small as POST matters only when it has a clear personality, as reflected in the books we select, the events we hold, and the way we interact with readers.
SC: What advice would you give someone who wants to pursue their dreams and build a purpose-driven business? 
MA: To love routine and boredom, and that consistency trumps good ideas. Making a dream come true will be fresh and exciting in the beginning, and there are always new collaborations and innovation that will take place along the way, but a truly impactful initiative can only thrive with endless care and maintenance. Think of your mother or someone who raised you, the person who fed and bathed and put you to sleep every day when you were young. Any founder of an initiative will have to do the same, there is always routine care work that cannot be delegated to anyone else, and this work of caring will be tangled with boredom. Loving this part of the work is what makes sure you and your initiative will thrive in the long run.
SC: What is next for you and Post? 
MA: POST has branched out into publishing last year, through a little publishing house called POST Press. Just like the bookshop, we choose to do things in a small yet passionate way: only publish two to three titles per year, utilize independent sales and distribution means, and promote the books and authors in the long run.
We've got into the third print of our first title within four months and are currently preparing our second release, a collection of poems in English called 'We Are Nowhere and It's Wow' by Mikael Johani. I'm thinking of ways to broaden POST's reach without opening another branch. POST Press is a start, but there will be more ideas to come.
As for myself, I'm challenging myself to take self-care as seriously as I do my work and creative pursuits. I've also begun to write more, which not only makes me feel balanced but also makes it possible to finish a novella I've been working with Teddy for about a year. By saying this out loud and sharing with you, I hope it means the book will see the light of day in 2017!
-
Maesy is the co-founder of POST, an independent bookshop & publisher tucked cozily in Pasar Santa, Jakarta (Indonesia). She can be found there on the weekends, behind a good book and ready to help you find your next printed adventure.