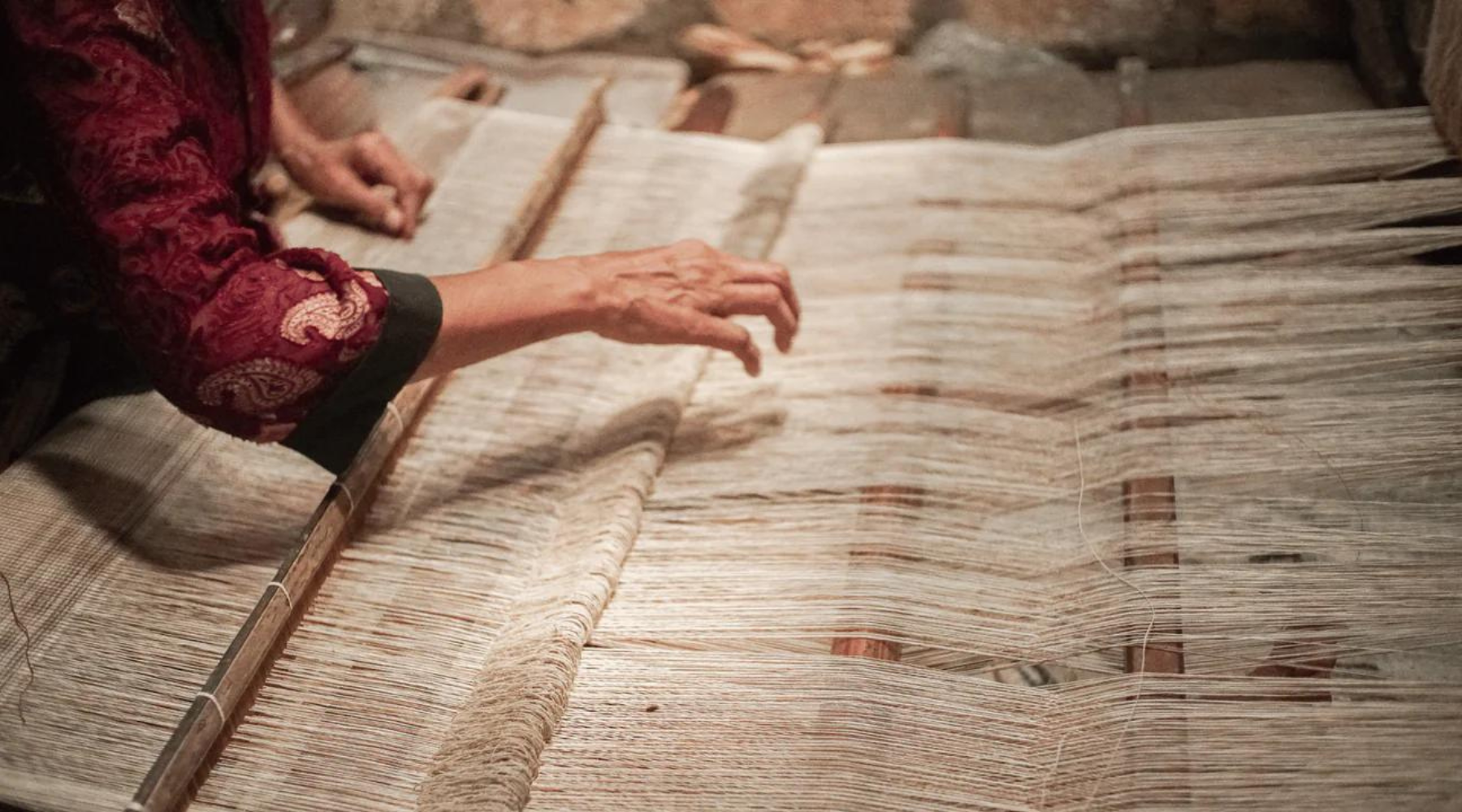 For this year's World Cotton Day, we look back at one of the world's biggest socio-political movements—that happened to have a lot to do with fashion.
In British-ruled India, Mahatma Gandhi used the humble practice of crafting a handspun and handwoven cloth into an act of revolution. The cloth itself, Khadi, became central to Gandhi's Swadeshi Movement—which was meant to boycott the use of imported products and materials.
Gandhi famously (and purposefully) wore a white loincloth (dhoti) and shawl as his uniform. Through it, he showed solidarity to the poorest people of India at the time, and the urgency of Khadi as means to self-reliance—that it will literally keep everyone clothed. 
We, SukkhaCitta nerds, are sentimentalists who really believe in the power of wearing our stories and values in our sleeves. Clothes—and by that extension, fashion, are powerful tools to start conversations and spur movements.
In this era of fast fashion, we think it's refreshing to look back at the Khadi movement, its values, and see:
How empowering a piece of fabric can be
Gandhi disagreed with the notion of "weaker sex", and he believed that women need to have means of earning a living. Khadi, he observed, is something women can partake in.
"I swear by [Khadi] because through it I can provide work to the semi-starved, semi-employed women of India. My idea is to get these women to spin yarn, and to clothe the people of India with khadi which will take the impoverished women out of it." 
We agree with Gandhi on this—craft provides a viable opportunity for mothers to pursue economic freedom while taking care of their children at home. In Indonesia, where education acts as a barrier for these last mile communities to enter formal employment, craft offers a livelihood option to nearly 30 million people living under poverty.
However, up to 60 percent of handcrafted pieces are made by a woman who couldn't leave her village because she has to take care of her children—who has no say in what she earns from her work. Majority of artisans work outside of the formal factory setting, which means no regulation exists to protect these women.
SukkhaCitta commit to give these women a chance to earn a wage that allows them to support their families through farming, batik, dyeing, hand-spinning, hand-weaving, and needlework—as well as allow them to pass their skills to the next generation through our education programs.
How sustainable a piece of fabric can be
Way before total ethics fashion made its waves, Khadi made their way. Being spun and woven without any electricity, and fully made from natural fibers, traditionally cotton—making them low in carbon footprint and biodegradable.
We love handwoven cotton and find it to be an amazing fiber well-suited for our tropical climate. However, cotton is also a big culprit in climate change, being farmed unsustainably in monocultures to meet the demands of fast fashion. It's laden with use of agrochemicals, the consumption of water, and deforestation—among other ethical issues like forced labor.
We took our time to slow down and work directly with farmers to see how we can actively heal the planet. To our delight, our Ibus in Gaji and Wolutengah village, East Java, managed to bring back Tumpang Sari polyculture farming that heals the soil and free the water from toxic runoff! Even cooler: they also make their own version of Khadi, spinning and weaving the cotton they grow into the most deliciously textural fabric.
We plan to keep expanding these Tumpang Sari farms, and aim to go full regenerative cotton by 2025—it's really the only way to go.
How meaningful a piece of fabric can be
Gandhi constantly advocated for the value of wearing Khadi. To him, it's not the product, but the value embedded in its craft. Every Khadi fabric starts from a cotton plant grown and harvested by everyday Indians. Gandhi also asked Indians of all classes and genders to spend time each day spinning the Khadi yarns. The shared labor empowers the country to become self-sufficient, and thus, financially independent!
"The message of the spinning-wheel is much wider than its circumference. Its message is one of simplicity, service of mankind, living so as not to hurt others, creating an indissoluble bond between the rich and the poor, capital and labour, the prince and the peasant."
We couldn't have said it better ourselves. A lot of resources and energy goes into making clothes—yet, the world keeps buying more and tosses them ever faster. It hurts to see people treat clothes as something disposable, a fad.
We want our pieces to be something meaningful, a bond between you, the artisans, and the earth. That's why we take time to tell you their stories, recommend you to wash your pieces by hand, and provide free repair services—all of them to help you see these pieces you buy as a part of your life, part of a story, an inheritance of sort.
Something you will continue wearing and feel good in even as your lifestyle change—a forever wardrobe.
Want to see more of our farm-to-closet cotton collection? Click here.