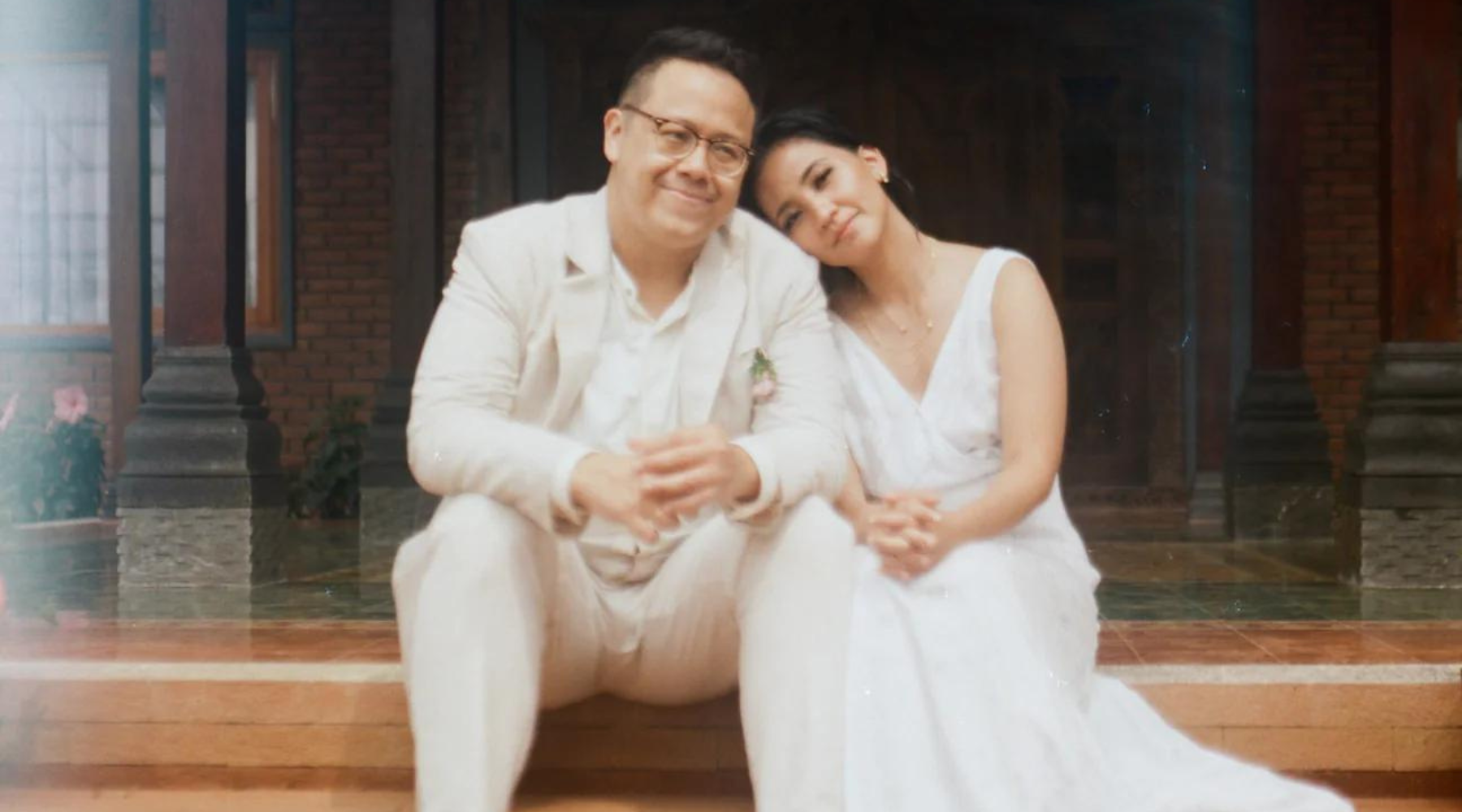 Hi Ayu! Congratulations on your wedding, it's as if we can feel all the emotions in the pictures. Tell us, How did you meet you husband?

Ayu Larasati (AL): We met through an online dating app :) There are maybe already a lot of stories you've heard about online dating experiences, and ours probably just got added to the pool haha but luckily this one is a happy one. 
We met and as it turned out have a lot in common - interests and friends, among other things. And at the same time, Galih is quite the opposite of myself in his characters that complement what I am lacking. He fits just perfectly.
A future heirloom. Timeless beauty was the inspiration of Ayu's dress, letting the handwork speaks in subtlety. Ayu wanted a piece she can pass on to her daughter. So our Ibus drew an eternal garden to keep the memory of this special day in bloom.
SC: Could you share more about the intentions you guys had during the wedding planning?

We both want to celebrate with the closest people in our life at a place that is dear to our heart. We really want to share the moment with a small group of family and friends who have been there witnessing and supporting our journey. 
We chose our family farm in a village called Panaruban in West Java where I spent a lot of time growing up for the wedding's venue. The garden and vineyard was a small passion project initiated by my parents during the pandemic. They found a new routine of tending to the roses and the grapes during the last couple of years and it has now flourished and bloomed into a beautiful place. We couldn't think of any other place for the event.
Galuh wanted a tailored suit he can wear after the day. Choosing to customize a PAGISENJA shirt, blazer and pants to mark his new beginning.
The garden at the farm is a showcase of labor and love both my parents have done not only to the place and to our home. From that note and continuing along the spirit, we want to be intentional of who and what we are bringing to the wedding. From the food, the souvenirs, our wedding bands, decor and music, and not to mention, the wardrobe :) 
We are lucky to be surrounded by talented friends who are happy to help us out to make our ideas into reality. When it all comes together in the end, it really feels like the small intimate wedding that we both always imagined. 
Do tell us more about the design process for your wedding dress (the style and the chosen
kain
)!
When designing the dress, Ana and Gita were really accommodating and intently listening to our requests. We begin with some dresses that Sukkhacitta already has as the initial start. I love Canang and Kupu dresses for the classic elegant and timeless feels that would definitely work for the foundation of wedding dress. And from that point, Ana was designing the dress based on some of the criterias and requirements needed for the day. 
The chosen kain was named "Buketan". I was immediately drawn to the fabric for its beautiful soft gray drawings and Buketan translates to bouquet, and given the location where the wedding takes place, I knew I had to choose that for what it embodies.
I couldn't be happier for the wedding dress and definitely something I wish to keep and pass on to my daughter for her special day.
If I learned anything from my mom after two years now, tending the garden that is now filled with the roses - some grew almost 5 feet tall, you have to trim the ones that's wilting to make room for the new ones. Trimming them daily supports the growth of new ones and makes them more supple and healthier. The logic behind that actually quite makes sense reflecting my own personal journey; some parts of myself died, evolved, changed, and always in the state of becoming, to support ourselves and the new chapter to thrive. 
The style for the wedding dress is a sleeves V-neck with some pleated details with a low back that is shaped to fit on the hips and additional length of a tail  to accommodate the bridal look. I couldn't be happier for the wedding dress and definitely something I wish to keep and pass on to my daughter for her special day.
The choice for your wedding venue and table decorations were so beautiful and inspiring. We would love to know more about the reason behind them!
Thank you! We planned to have a sit down meal, and served in family style for the wedding. And was determined to make 100 plates for 100 guests. And little did we know that it was really challenging to make the plates as it is shaped like a flowering petal and the shape doesn't lend well to ceramic firing. But finally after 5 months of production, we managed to finish all hundred and that was definitely the highlight for the table decor. 
The cups that complemented the plates were from a collection of secondary quality pieces that was made by our studio and could not be sold - they were kept for years. We thought this occasion is a good reason for bringing them out and giving them a spotlight despite the imperfection of being a functional secondary quality. 
And as for the rest of the elements on the table, it was not possible without the help of the local gardeners who helped us pick out the leaves from the surrounding greenery.We chose leaves from the cinnamon tree that is so abundant there, after doing a few trials with other types of leaves that didn't make it through hours of withstanding humidity for the decor of the event. The decor for the table was really a collaboration between us and the local people who guided us to what's available there.


What would your advice be for future brides that are planning a beautiful and sustainable wedding?
I think a lot of times, when we talk of wedding celebrations, we sometimes associate that with overconsumption or careless spending. And some may feel, in order to avoid that, we go to the extreme dismissing the idea of having a memorable wedding all together. But that is not always the case. 
In a sustainable wedding, it helps if we can work with vendors who understand and support your value and are willing to think together creatively in more microscopic details. Questions like how is everything that is involved in the wedding going to be created, have we tried any other ideas that didn't make as much waste? And what is it going to be after the event has passed? 
In the end sustainable weddings need more creative ways to approach a wedding celebration. I think if we keep those questions as references and points of checking during the planning, we can really simplify the process and keep our intention focused on creating a mindful, sustainable, memorable and beautiful wedding. 

What was the most memorable thing about your wedding?
The most memorable was definitely the part where our family and friends gave their speeches. It was really a surprise to hear what they have to say about the journey they went through and we went through together. It brought us to tears hearing it.


_
Ayu Larasati is a ceramic artist based in Jakarta. If she's not running her studio, she can be found cooking with her two children and husband. Photographs by Fransisca Angela.