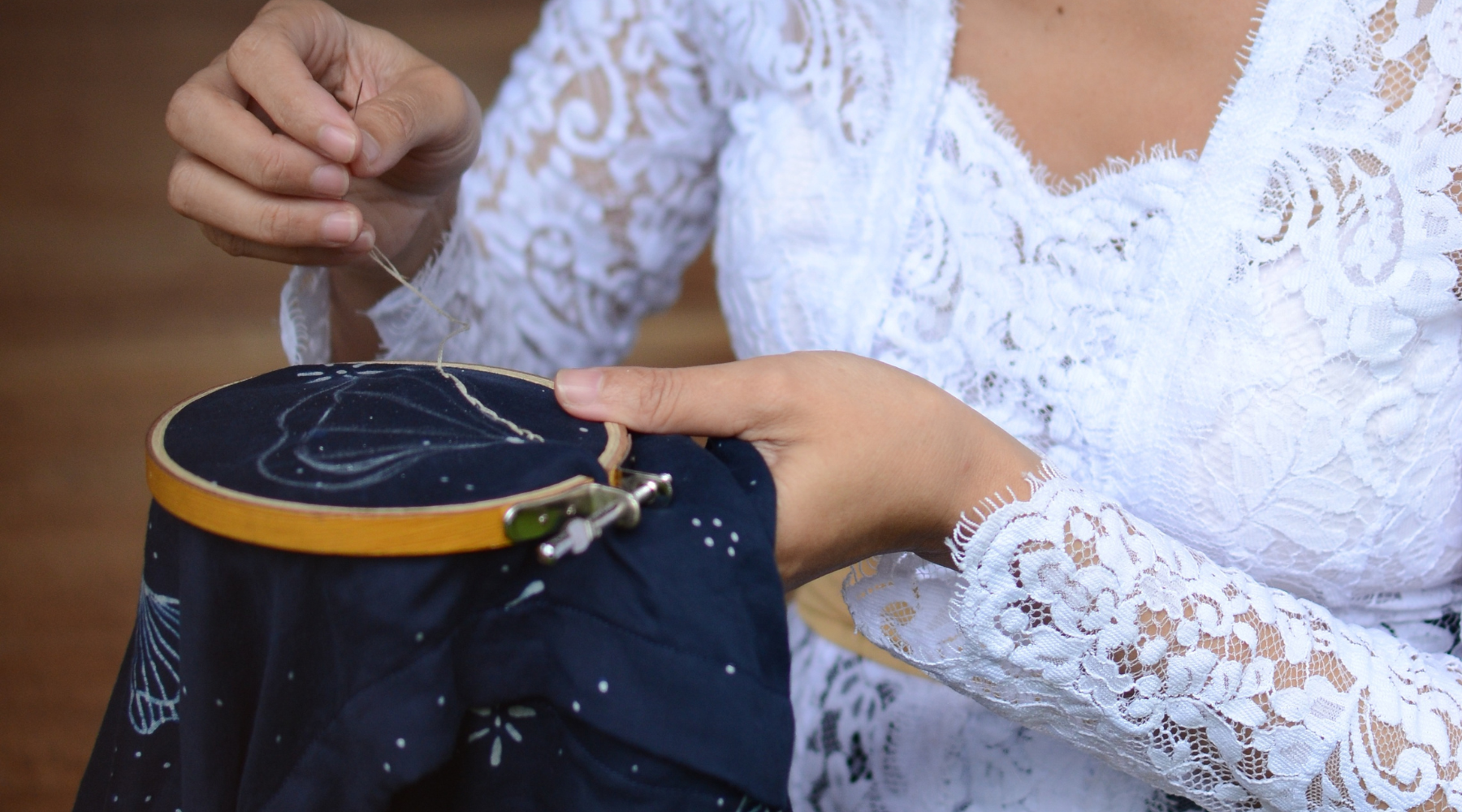 Meet the women that makes your clothes so meaningful. Through living wage and access to education, we are changing lives in rural Indonesia. This month, we are in Bali running trainings that help mothers who lost their livelihoods in the crisis learn new skills to care for their families.
"There was just nothing," Ibu Wayan said. "For a year now we had no income, my husband went looking for a job almost every day. But nothing. I didn't know until when our savings would last."
Ibu Wayan is one of the Ibus who joined our program in Bali in 2020. The community had heard of our programs and wanted to be part of it. As with many others, her family survived on tourism. When the lockdowns began, tourists started leaving and along with it, her livelihood.
At the same time, our small social enterprise was hit hard. In the midst of the uncertainties, I was not sure until when we could survive. It was definitely not a natural time to add a new village – but I knew we had to find a way – any way – to support them in this hour of need.


Most of the Ibus have small children. Which means that they won't be able to travel far and anything we do must be applicable for them to do at home. Running our Baseline Survey indicated that thread work – sewing and hand embroideries – is a viable opportunity as they had some experience with it in school growing up.
But we were still unable to travel. So through many, many late nights, our team figured out different remote possibilities for them to learn some basics and start making little things immediately. And thus, our #ReMadeRight pieces were born.
Slowly, more Ibus signed up. And we knew it was time to go there and meet them.




So in January 2021, we finally were able to run our very first training here. This is very exciting for me personally as it was the first time Ana and Seb gets to meet the women behind your most meaningful clothes.
Seeing them share the stories behind each fabric, each imperfection, each stain, each line, each color, to the Ibus here warmed my heart. And I saw in the Ibus face a sense of wonder knowing how the fabric they've stitched for months came to life.
An Ibu, supporting another Ibu. Connected by the threads of hope.
Since then, we've expanded the curriculum to include patterning, upcycling, and finding ways to preserve local crafts such as Balinese lace. We've also grown the program to over 20 women from 5 different villages across the island.
Providing opportunities where it's needed most - made possible by you.
Thank you for choosing change. It matters.