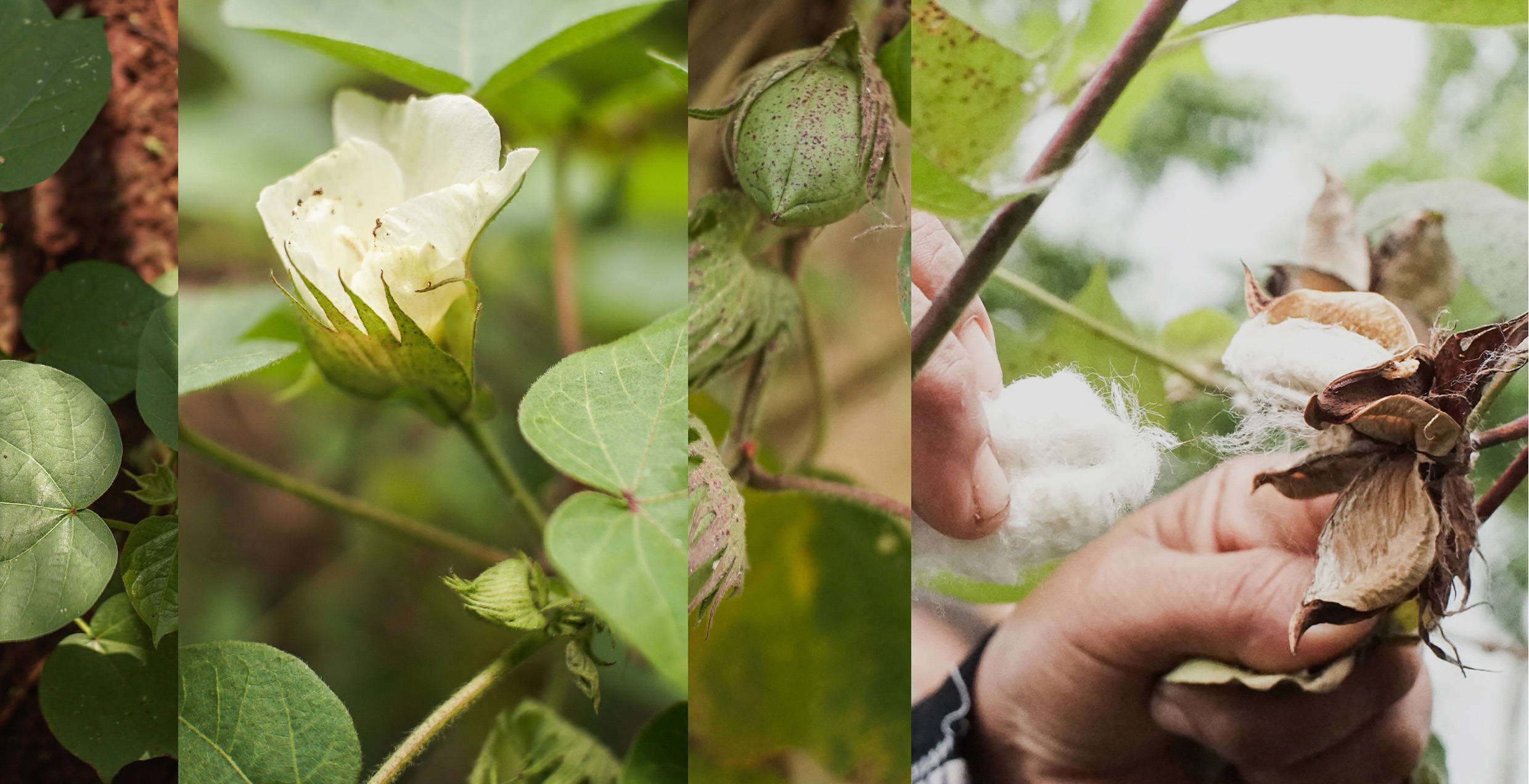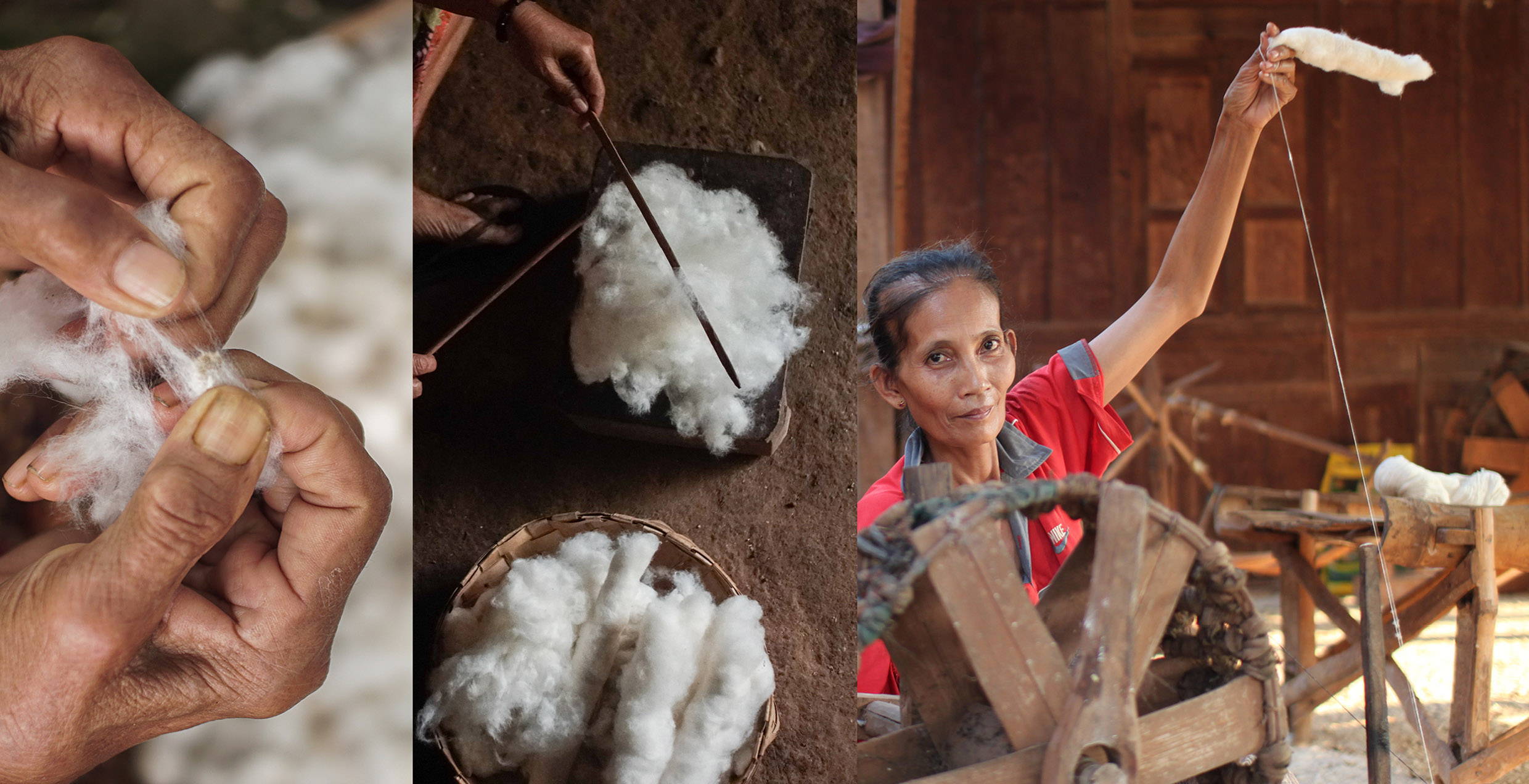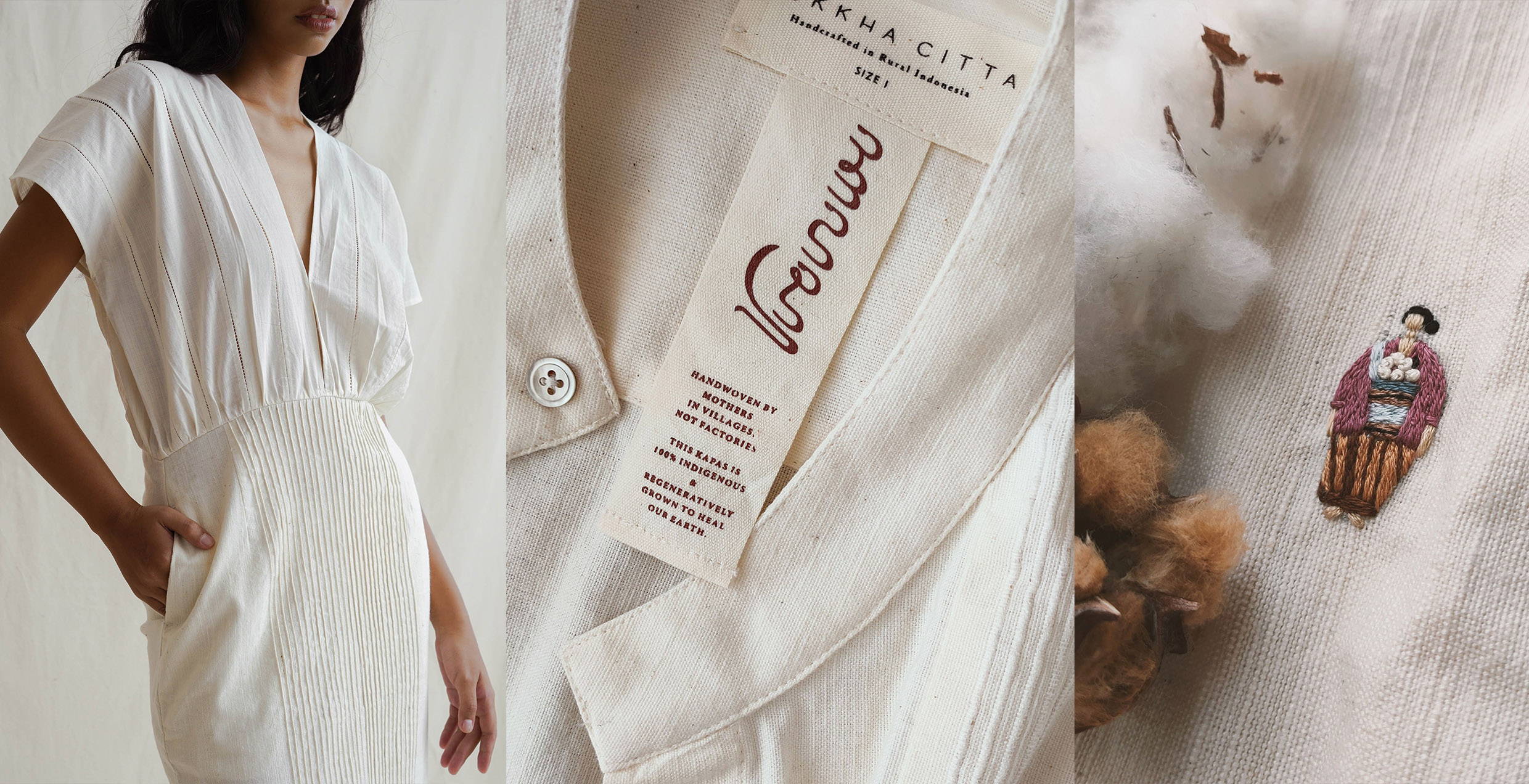 1. Empowering All Craftswomen

2. Sustaining Our Culture

3. Regenerating the Earth
We ensure our supply chain empowers all farmers and craftswomen, as well as helps the Earth heal.
Our buttons are from made from waste mother-of-pearls and supports the livelihoods of 12 women in Makassar, Indonesia.
Our labels are made of 100% cotton, handmade in Jogjakarta, Central Java, Indonesia.
Our threads use 100% traceable, certified recycled Polyester.
To preserve your piece as long as possible, hand wash cold with mild detergent. Separate colors. Hang dry.
Free repairs for life for seams, buttons, holes. Clothes that have reached the end of their life cycle will be upcycled through our program. Embroidery and repair kits available.
Redye your beloved pieces with our reclaimed Mahogany wood bark or Indigo leaves. Service currently available in Indonesia only.
We care for the clothes we grow, and we believe in gifting them a second life through our programs.
Smaller naturally-dyed offcuts are mixed with 100% post-consumer paper in Bandung to create our hangtags and eco-greeting cards.

Pieces are shipped in zero waste pouches, upcycled from our own scraps or training fabrics. The strings are hand-knotted by mothers in Medono village with waste threads from our handwoven fabrics.
Complementary giftwrapping is plastic free.
Before SukkhaCitta, our craftswomen were invisible. Working from home, with very limited opportunities and no legal protection whatsoever, it was easy for brands and middlemen to exploit them. Struggling to feed their children, they were trapped in poverty.

SukkhaCitta was created to change this. Providing access to education and fair work so these women can change their lives on their own terms. Today, our mother-makers ('Ibus') know how much their works is worth - and they have become true change makers in their communities.
No longer isolated, our Ibus rise together – and take their communities with them. They pay it forward and become multipliers of change.
Together, we have built a bustling village economy run by women working together, supplying each other with base materials and freely sharing their knowledge - all the way from growing our own fibers to stitching your most meaningful clothes. That's what makes your #MadeRight choice so meaningful. It returns pride and makes women feel valued and seen.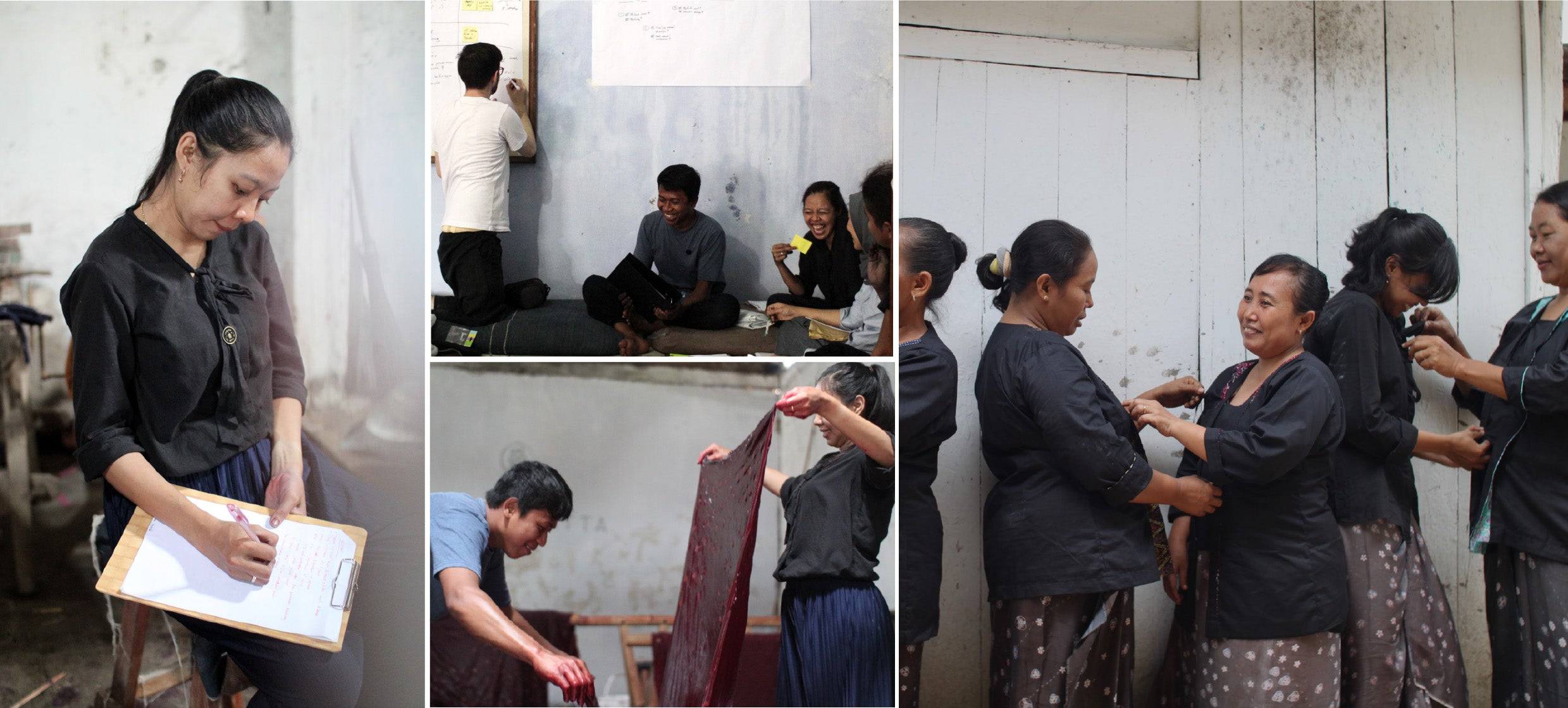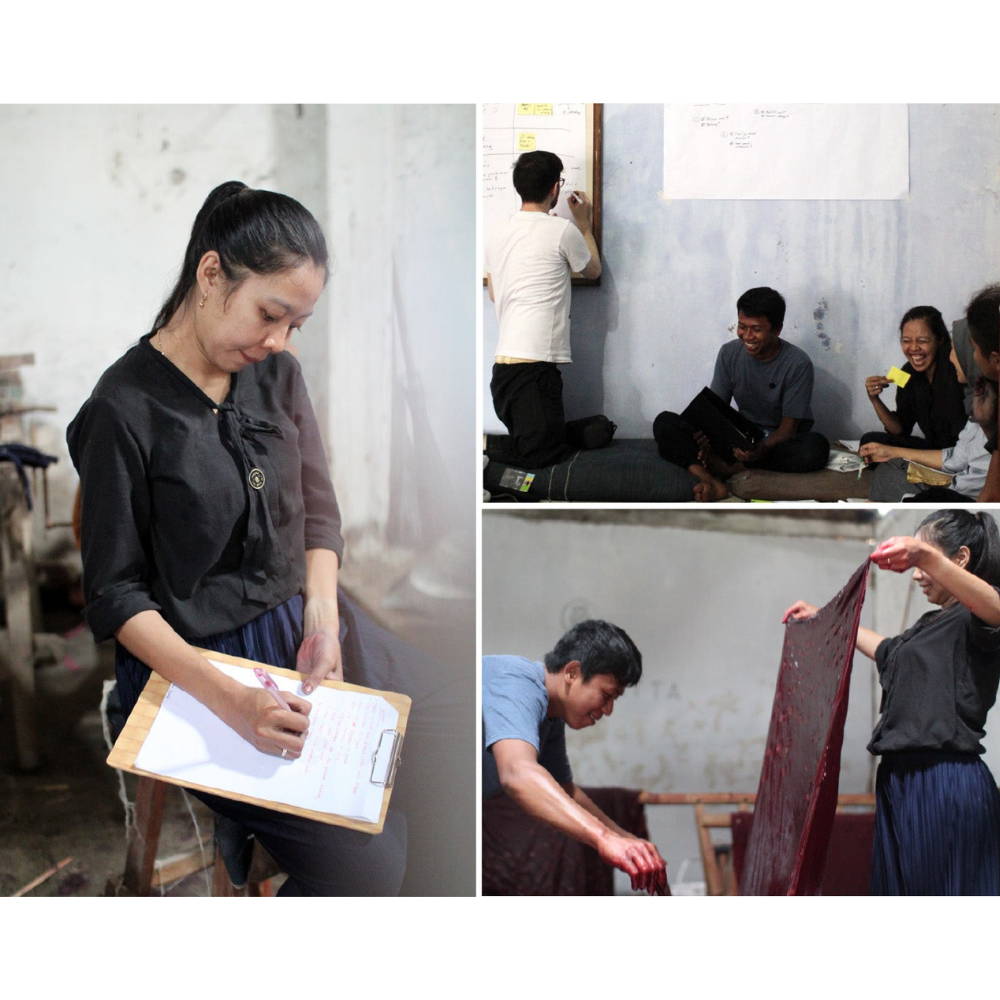 The Women Enterpreneurship Fund
In each of our villages, we have a local champion (Jawara Desa) who leads her cooperative, coordinates production and ensures compliance with our #MadeRight standard. To help them transform their communities, we provide access to zero-interest microcredits and grants.
The microcredit SukkhaCitta gave us allowed us to grow our cooperative. It made it possible for us tp achieve our lifelong dream to help weavers claim and continue our culture. And of course it was so important during the pandemic when many of our Ibus needed money urgently. All without any interest.
When I first met Mbak Denica, I wasn't working yet. Now, I am running our cooperative and also manage my family's finances. It made me much more confident and respected in my family. And my 2 daughters can see that. I hope that more women will feel this too.
Because of you,
Ibu Ira can provide fair work
to women in her village in this crisis.
Because of you, Ibu Arum's Daughter will be
the first girl in her village to graduate High School.
Grants & Microcredits
Given to Women Entrepreneur
Average Increase in Income
One of the first things I noticed when I was doing my research was how old most of Indonesia's craftswomen are.
Unable to compete with the low prices of digital and screen-printed fabrics, most artisans choose not to continue their crafts.
—Denica Riadini-Flesch, Founder
Without regeneration, how can our culture survive?
Through Rumah SukkhaCitta, we're changing that.
Providing education to women so she can continue her heritage while lifting her family from poverty.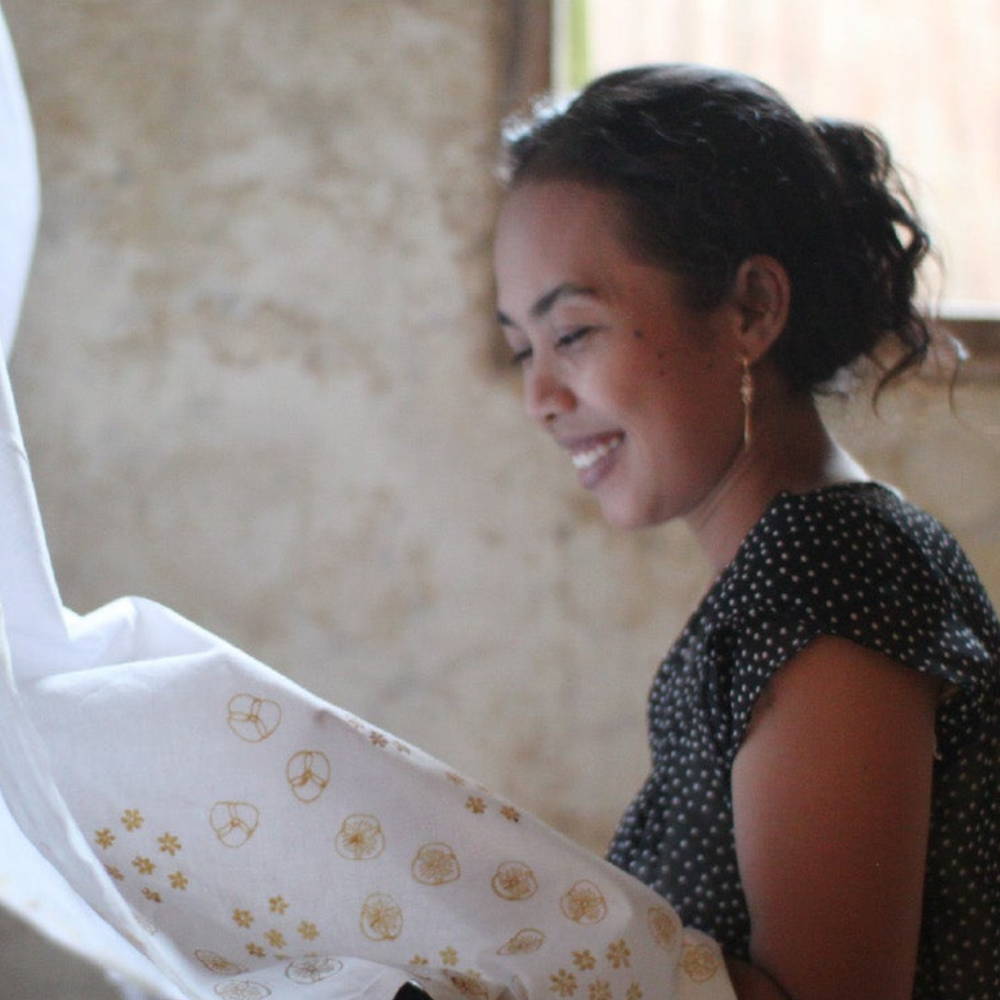 Ibu Lina, Gesikharjo Village
Because of you, Ibu Lina gets to continue the heritage of her family as a fourth-generation batik artisan through our Jawara Desa program.
Women receive full scholarships.
Heritage techniques reinterpreted.
Average age of our Ibus
has almost halved from regeneration.

"SukkhaCitta creates social impact by investing in the capacity building of rural craftwomen and ensuring that the women earn a living wage."
As a Certified B Corp® voted Best for the World™, we are building one of the world's first farm-to-closet supply chains.
Changing how materials are grown by leveraging Indonesia's regenerative farming wisdom (Tumpang Sari).

Creating climate resiliency and sustainable livelihoods for smallholder farmers while restoring soil health and biodiversity.

A nature-based climate solution that you become part of whenever you wear #MadeRight.
What Ibu Kasmini Taught Us
Meet our first Mama Kapas,
who shows what's possible
when you put people & planet first.
Increase in yield
from the restored soil
of CO₂ can be removed
rom the atmosphere annually,

Equivalent to burning 5.000 kg of coal.
Ibu Lilik, Master Artisan
Because of you,
Ibu Lilik is no longer exposed
to toxic chemicals.
Natural Dye Colors Developed
Toxic Waste Water Prevented

Fighting waste: 0% plastic in our entire supply chain

and upcycling 100% of our offcuts.






Made by mothers, not machines